The nice thing about digital downloads is there is a place for smaller or different experiences. There isn't a place for a $60 side scrolling beat 'em up, but there is certainly one for $15 or so. Sadly, this forces games to find ways to stand out. Ninjin: Clash of Carrots tries to do this by combining a beat 'em up with an on-rail experience. It's an interesting idea, especially given how cute it looks, but is it enough to stand out?
Ninjin: Clash of Carrots is essentially about a lord who takes your carrots and you want them back. There are a number of story segments, most silly, that kind of build on the world, though it doesn't get far from the basic concept. It's enough to justify the experience, though not enough of the jokes, with it coming down to whether or not you care about the silly extras.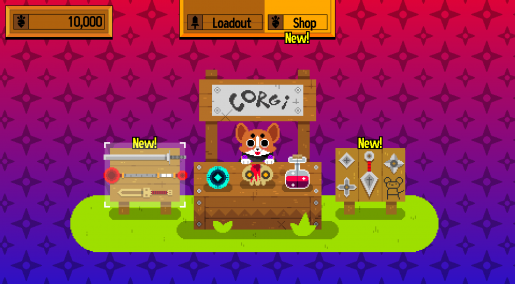 Even if the story isn't that robust, gameplay manages to be surprisingly complicated for such a simple game. As mentioned above, this is a beat 'em up, so players can attack, move, dodge and get a ranged attack, though also on rails, so you either have to withstand a wave or defeat them while constantly moving, even if you're not actually moving. What makes it complicated isn't the inputs but everything around them.
Defeating foes will reward players with carrots (cash) and the occasional treasure box. These will sometimes give players more carrots or simply unlock an item. Said items can also be purchased with carrots, giving players some control over their build. From there, every weapon will have a unique design, ranging from an actual weapon to things like a tennis racket, with different attack speed, damages, critical chance and other perks. There are also items that modify stats and give players other benefits, which are important to remain successful or complete a challenging stage.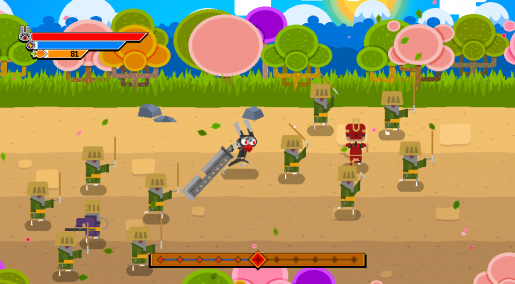 Enemies also come in a diverse range of styles. While basic enemies just attack, higher tier ones will shoot bombs, dash forward, disable certain attacks or turn invisible for stealth attacks. The key to success is to know what to expect and to maintain a constant kill order. Mid to outright bosses further this by demanding a good understanding of how to play. Sometimes this can be difficult, like I've dashed the wrong way and taken damage I was trying to avoid, with other situations being overwhelming at first. Thankfully, there is multiplayer support.
Unlike most newer beat 'em ups, Ninjin: Clash of Carrots supports on and offline co-op. The only downside is online co-op is level based, so if no one cares about the level you're having issues with, players might not actually find the help you want or need.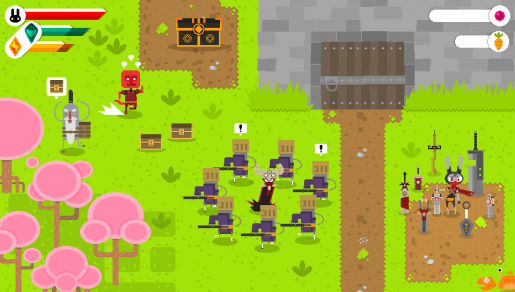 Verdict
Ninjin: Clash of Carrots is deceptively simple. There is enough depth to give players motivation to get better or try different things, though not enough to change the core experience. Even though the graphics are cute, there isn't much that stands out. Combine this with challenging enemies and deeper mechanics and you have an interesting experience. It's perfect if you're looking for something different to play locally or just like the genre, without there being a real hook for anyone else.
[Editor's Note: Ninjin: Clash of Carrots was reviewed on PS4 platform. The game was provided to us by the publisher for review purposes.]