Square Enix has revealed the official box-art for Kingdom Hearts 3 and the cover of the game looks beautiful. It pretty much includes all of the main characters of the game posing with a wonderful looking backdrop. It's one of the best gaming covers I have seen in a long time!
The box-art cover for Kingdom Hearts 3 was revealed via the official Kingdom Hearts Twitter page. You can look at their announcement for the cover posted below.
"As we draw closer to the launch of #KingdomHearts III we'd like to show you all the cover art for the game! This stunning piece, featuring a number of iconic characters, was created by series director Tetsuya Nomura. #KH3sharethemagic"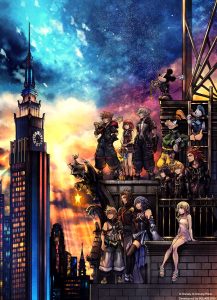 In addition to the cover for the game, Square Enix also released today an extended new trailer from TGS. It pretty much gives us more details on the different worlds that you can visit.
The official YouTube channel posted the following: "Watch Keyblade Hero 3 fight alongside Big Hero 6 in San Fransokyo! Learn more about Sora, Donald, and Goofy's journey in Frozen, Monsters, Inc., Tangled and Pirates of the Caribbean worlds. Check out Sora's Big Hero 6 themed Keyblade transformations, Gummi Ship footage, and new Gummiphone features!"
Kingdom Hearts 3 will be released worldwide on January 29th, 2019 for the PS4 and Xbox One consoles. Sadly, there have been no announcements of the game being ported over to the PC and Nintendo Switch. You can read a synopsis from the game posted below as seen via a press release.
KINGDOM HEARTS III tells the story of the power of friendship as Sora and his friends embark on a perilous adventure and support each other through difficult times. Set in a vast array of Disney worlds, KINGDOM HEARTS follows the journey of Sora, a young boy and unknowing heir to a spectacular power. Sora is joined by Donald Duck and Goofy, two emissaries sent by King Mickey from Disney Castle, to stop an evil force known as the Heartless from invading and overtaking the universe. Through the power of positivity and friendship, Sora, Donald and Goofy unite with iconic Disney-Pixar characters old and new to prevail tremendous challenges and persevere against the darkness threatening their worlds.