Pictomania, a drawing based party game, has just seen a second edition released. Originally released back in 2011, the game sees 3 – 6 players spend around 30 minutes doodling and drawing before frantically guessing what others have drawn. Designed by Vlaada Chvátil and published by Czech Games Edition, this simple paper and pencil title has a strong board gaming pedigree behind it. However, is this a modern day Pictionary? Let's find out!
Pictomania is played out over 4 rounds, with all players simultaneously drawing and guessing. At the start of a round a difficulty level, or colour, is decided, and it truly is worth starting with the easiest green cards. Three cards are randomly draw of that colour and added to the plastic card stand, which handily comes with A, B and C stickers. Players then choose a player colour, taking the pencil, tokens and cards of that colour. The token values are determined by the number of players in the game but range from 1 to 3. Note, while the provided pencils appear different colours their lead is all the same standard pencil colour.
Black tokens, again with the values depending on the player count, are placed within reach of all players in the centre of the table. Taking a drawing sheet and folding it in half to give a drawing zone the first round is almost ready. Separately shuffle the two types of cards, letters and numbers, and distribute one of each to each player. This gives players a grid reference of sort with a unique combination of a letter and number. While up to two players could have the same letter each number, 1 – 7, is in the deck only once.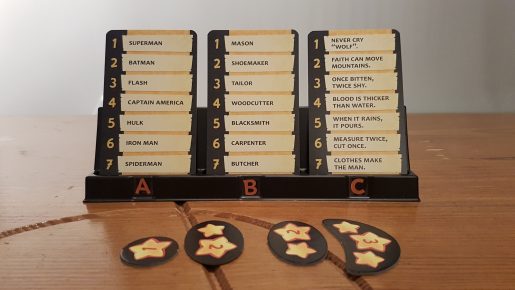 With their word in mind, players then all start to draw. Once you feel like your drawing is adequate, you put your pencil down and start to guess what others are drawing. However, this means you can not return to drawing. Instead of calling out what you think someone else is drawing, and you can refer to the cards on the stand, you place the number of the word you think it matches in front of the player (regardless of the letter the player has). Once you've finished guessing you can grab the highest value black token from the centre of the table, hoping it'll score you more points!
Once guesses are made they are locked in and cannot be changed, and once all are made the round moves onto scoring. While this can be done simultaneously for the first few rounds it is best done player by player. A player unveils what they were actually drawing and then flips the pile of guesses from other players, so that the first to guess is at the top. For a correct guess the player gives their highest available point token to the guesser. For incorrect guesses nothing is awarded.
Players then sum up all the points awarded by other players tokens they obtained, subtracting the value of points of their own point tokens that weren't given away. Finally, whomever has incorrectly guessed the most drawings loses the points on their obtained black token, while everyone else gains the points on their black token. This black token rule is explained in the rules as almost an advanced variant but does help balance speed of guessing with accuracy. Write down the score you got and move onto the next round, with final scores being revealed after the fourth round and the winner crowned.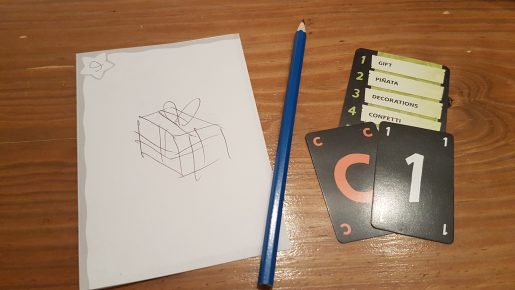 As you can probably guess there is a lot of passing tokens and cards around during and between rounds, making each a little disjointed. This irritatingly interrupts the fun of the drawings. Just when you want to be pointing and laughing at the skier you thought was a weird clown you have to be doing token admin. In the first game this was a significant dampener, though it does slowly lessen as players get used to the process.
The cards increase in difficulty but they also change the dynamic in the way the game is played. The level 1 green words feature objects, items, professions and more which can be scribbled down in a mad doodle. This often sees all players spend as little time as possible drawing, to get guesses in early and grab the highest black token. This tactic is rarely seen at the other end of the difficulty spectrum. When it comes to the level 4 red words/phrases players take their time over the drawings, making sure not to loss points or rush a guess. Naturally, some still try to be speedy: though dodgy drawings don't often pay off.
One aspect that I'm split on is the guessing. While it creates an amazing trade off of the time spent on your own drawings against being the first to guess others, one aspect of drawing games is lost. Perhaps being more family friendly, gone is the shouting that builds up due to the tension. As the guesses are done via guess cards the scenario where one person almost guesses the right answer only for another player to use the logic to steal the victory is gone. This sniping of words is something that can often spark laughter, at least in my gaming group. What's fun for some will have put others off though, so it is nice to see a different approach, which could cater to a different player base.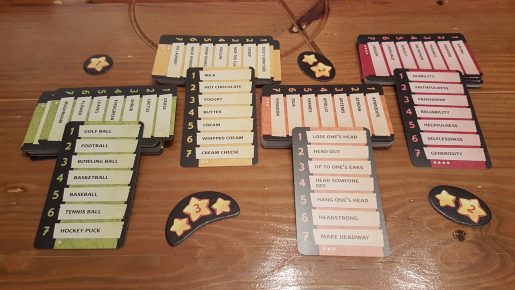 This more friendly, less pressure, approach flows through the game with players knowing a set of words to guess from. No longer will a player guess something so far fetched that it throws people off, nor will they be sat stumped for long periods of time. At any point there are only a maximum of 21 words to choose from. It is also more than possible to guess the wrong word but play the right number and still get points, though this isn't too common.
Component wise everything needed is included, is mostly of good quality and has been well thought out: even down to the stars, on the sheets to write scores, and grey borders on two sides, to make it obvious which way is the bottom of the sketch, no matter if it is portrait or landscape. A total of 99 cards are included, broken down into the four colour levels, each of which is double sided; so nearly 1,400 words/phrases are included. While I'd say this is a bit low for most drawing titles Pictomania does something special. It is less about individual words and more how similar the 7 words on a card are that creates the tension of a good drawing. Players could get the same words when the cards cycle round yet someone could still confuse a dodgy drawing of confetti with a firework. The only negative, which drags the overall quality down, is the thin plastic used for the card stand. While not presenting an issue to date, it seems like the component that will show wear and tear first.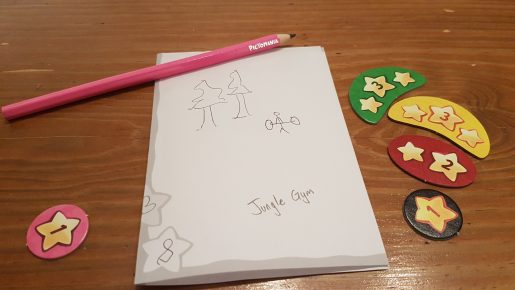 After a couple of games Pictomania starts to flow and players will even want to dare trying the harder words. Getting a mix of difficulty throughout a game helps keep things interesting, as it helps players strengths shine at different times, whether you have artistic flair or can only scribble down something that roughly matches a word but guess well. I must commend Czech Games for including everything you'll need in the box, all the way down to a pencil sharpener. I'm just left wanting a special component that would handle the token based scoring less manually. Overall, Pictomania is an entertaining drawing title that once warmed to can provide entertainment and as many laughs as other similar titles.
[Editor's Note: Pictomania was provided to us by Czech Games Edition for the review.]