Part of what made BioShock great was the setting. Instead of exploring a lost city or shady section of a popular town, we got to experience what was left of an underwater utopia. Finding out how such a fascinating world met its end and learn of the events leading up to some of the stranger happenings is part of the excitement. Similar things can be said about We Happy Few. Set in an alternate timeline, there are a lot of weird and unusual things happening, with the central goal being exploration of said world. Between trippy visuals, dark events and so much more, is We Happy Few the next big thing or is it a good idea gone wrong?
We Happy Few follows three different characters, all with their own quirks, on their journey through the world. Each character gives a piece of the puzzle, so Arthur let's us see the repercussions for going against established norms, with the other two highlighting the world inside and outside. Even if they make for an interesting journey, the story itself has issues sustaining itself.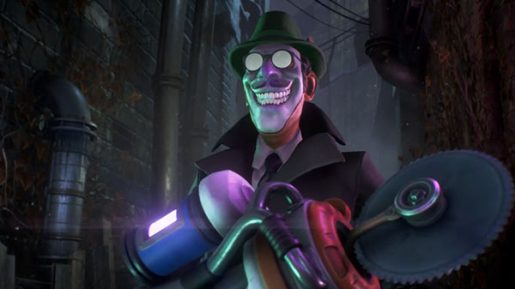 As soon as Arthur leaves his joy, the name of the drug that everyone takes to be happy, filled world, we're left with a far less interesting place and direction. Between finding medals, exploring a couple towns and stopping a gang, We Happy Few moves from an interesting adventure to one that relies heavily on the concept. While this worked for BioShock, something that more than paid off in the end, the same isn't true here. Not only is the result less than exciting, it's filled with frustrating gameplay mechanics.
To match the overall theme of the game, We Happy Few is essentially a survival game that can be played with stealth or through brute force, assuming you have enough resources to make it out alive. To aid you in your adventure there are a wide array of items, collectibles and what have you, which are designed to help you on your adventure. At times there can be an overwhelming number of items, like there is no shortage of bottles to distract hostile enemies, giving players ample chance to finish things without conflict.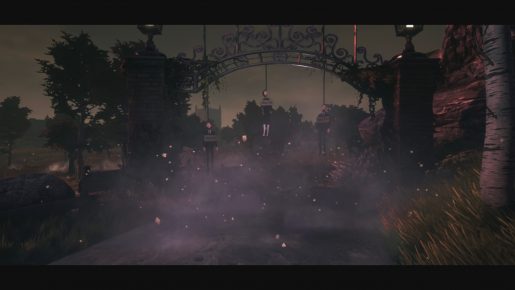 For instance, instead of fighting a number of enemies, simply throw a bottle far away from where you want to go and sneak to the objective. Even if this makes sense in theory, the AI and mechanics can be a little confusing. When exploring one of the towns a random section of grass was considered enemy territory, quickly changing a harmless walk into a fight with a couple gang members. Similar things happened in the starting town, as I entered a building, picked up a book to read, was caught and now most of the town was hostile.
These little things discourage exploration, since no one wants to fight multiple enemies when looking for helpful items, collectibles or quests, especially when said places would be safe in another game, even in the same genre. This, combined with the average area being rather open and empty, besides a couple items scattered about, pushes for a more linear adventure.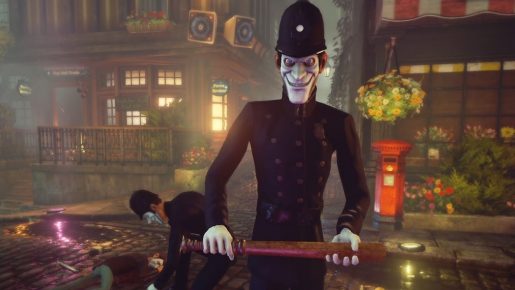 Thankfully, things get better over time. As you collect skill points a number of different powers and abilities are unlocked. These range from being able to do a charged shot, to not arising suspicion. Said skills can make it a little less cumbersome to explore the world, though it can take a while to get some of the better ones.
For those who play dangerously, combat is one of the least interesting aspects of We Happy Few. Every fight boils down to using whatever weapon you have, otherwise you're in for a lengthy bout, and essentially attacking the enemy until you're out of stamina or think they're going to attack themselves. Enemies that block can be pushed, leaving them open for punishment, though the whole experience is rather lackluster. After a while you notice the pattern or at least something that typically works and every fight blends together.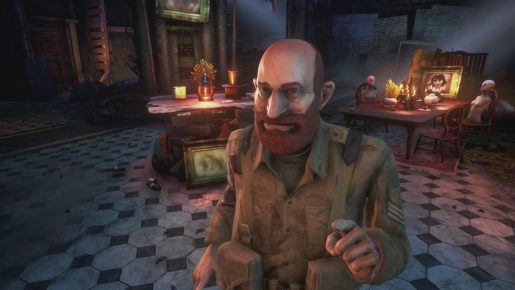 If there aren't enough problems with We Happy Few, it also suffers from a number of technical issues.  Simply loading the game on my original PlayStation 4 takes longer than more demanding titles. Worst yet, it isn't uncommon for players to run into a loading screen, which considering how long it takes to start, shouldn't be happening. From there, it isn't uncommon for mechanics to work in an unusual way, like I can sometimes just grab someone and they die instantly, or take away from the experience, such as bodies lacking weight. Some of the worst issues include cutscenes missing dialogue, missions not working if you don't approach them correctly/ensure every step registers as complete before doing it and more.
Verdict
We Happy Few could've been a great or at least interesting experience but fails to meet any of the promise. Instead, We Happy Few is an underwhelming game that hopes the idea is enough to sell you. For some that will be enough, just like others will simply deal with the bad or awkward mechanics, though the glitches make it a hard recommendation. While I would love to see it get fixed in the future, if only for critical things like missing dialogue, We Happy Few is simply not the adventure you need to experience.
[Editor's Note: We Happy Few was reviewed on PS4 platform. The game was provided to us by the publisher for review purposes.]