Far Cry 5 is the latest from the iconic first-person shooter action-adventure franchise. Published by Ubisoft, this new iteration sees players taking up the role as a rookie deputy entering the fictional Hope County, Montana, USA. In this county a preacher named Joseph Seed has captivated the minds of many locals, with his radical preaching of an inevitable collapse. The congregation of the Project at Eden's Gate isn't exactly pleased when outsiders arrive to take Seed away and so the unique storyline of Far Cry 5 begins.
As per the rest of the franchise, Far Cry 5's Hope County is an open world environment which players are free to explore via land, air or water via a range of vehicles. As you journey through the county players will discover a bit more about the grip the Seed family has over the area and the brainwashing faith. Other than this, all I'll say is the main character is unsurprisingly dropped head first into the conflict between the Eden's Gate members and an armed resistance. You'll have to play the game to find out the peculiar twists and turns of what unfolds.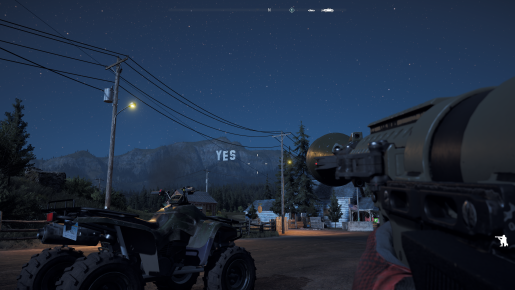 Exploring the county players will be treated to some fantastic vistas, akin to the stunning sites seen in Tom Clancy's Wildlands though with less variation. This being said the region has plenty to offer in terms of rolling fields, peaks to drive up, large lakes and rivers to navigate, winding roads and even a huge "I Heart Cheese" bear stood on a burger… Somehow even this doesn't feel out of place. The team has put some serious time and effort into crafting even some of the remote locations to make for great standoff locations that wouldn't be out of place in a Call of Duty map pack. However, just exploring and the main story isn't all Far Cry 5 offers.
There is a rather continuous churn of global mini missions to save captured hostages, on top of opportunities to liberate outposts. These often enable the player to speak to the NPC, unlike after destroying shrines or looting vans. Doing this is key not only to finding secret stashes of gear or money but it can be great to pick up some incredible side missions. Talking will also reveal a bit more about the region you're exploring, in all its weird and wonderfulness. Take the Spread Eagle chef in Fall's End for example, after liberating the town you'll get to learn all about why the town needs more balls… The "Testy Festy" of course. It is details like this that truly build the world out and let the player know exactly what type of people live there.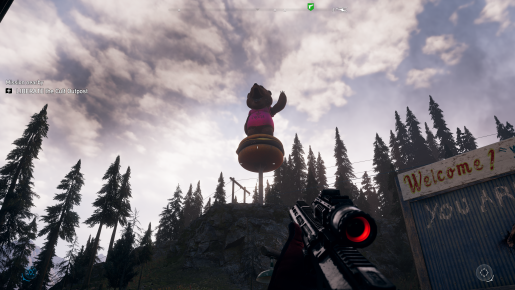 Guns for Hire are a way for players to, by the end of the game, band together with a couple of NPCs and even a dog, lion or bear. Players can come across plenty of mercenaries throughout the game and for once the AI are seemingly out to help you. By default, guns for hire will do their best to remain in stealth. This means there is little to worry about in terms of them triggering a firefight prematurely, as you are still scrabbling into a perfect position. Combat orders are limited, a wheel of options would have been nice. However, with the ability to call out specific targets or locations to move to this system can be great for causing devastating distractions. Guns for hire are not always available during missions but for the rest of the time, it is great to have some allies even when not in coop.
The arsenal available to gamers is extremely satisfying, ranging from a garden spade, with a spray-painted smiley face, to rocket launchers; with a silent but deadly hunting bow in the middle. Choice of how to approach the game is left up to players, for the most part, with only potential bonuses lost if an objective is not completed without triggering alarms. So whether you prefer to sneak around, timing takedowns and using silenced weapons or will bring the pain via enough explosives to destroy a small city the choice is up to you.
One instantly noticeable design decision is the effectiveness of headshots, no matter what weapon is being used. This can make purchasing weapon upgrades such as scopes or accuracy increasing grips worthwhile, you'll just have to find one of the many wandering merchants or stores to check out the available items.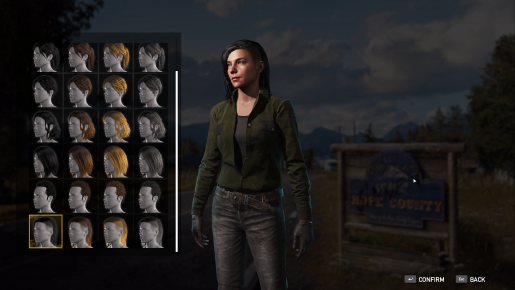 Also able to improve the players chances are the huge range of perks. While perk points are relatively simple to come across, with points awarded from leveling, finding fishing magazines and more, the costs soon ramp up. From the start all perks are available but limited via cost, with only the first of each category available for 1 perk point. There are a few necessities that players should pick up early game, and the game could do better to highlight these.
Firstly, without the parachute perk exiting any vehicle in the air is going to be a bad time. Secondly, being limited to only one primary weapon can make it extremely hard to hold onto a weapon once its ammo is exhausted. Grabbing the second holster perk not only removes this issue but enables the player to always carry the silent bow but have the back up of a SMG or assault rifle. One negative is that players can pick up some perk points from playing coop, so solo gamers will miss out on these otherwise easy points. At least there are plenty of other ways to get points from hunting and fishing to takedown kills and headshots.
Far Cry 5 doesn't take itself too seriously, something that resonates throughout the franchise. This is highlighted by some of the ways it pokes fun at itself and other video games in a Deadpool like fourth wall break. A notable moment is early on when the main player is tasked with climbing a radio tower, to be told "I know what you're thinking I'm not gonna have you climbing up towers everywhere". It was like the developers were in my head as at the exact time I was wondering how many Assassin's Creed view-point-like towers I was going to have to climb during the game. By taking this approach the game is constantly fun even with some structure. For those new to the series it is like the Just Cause serious, thought slightly less OTT, but with a storyline worth experiencing.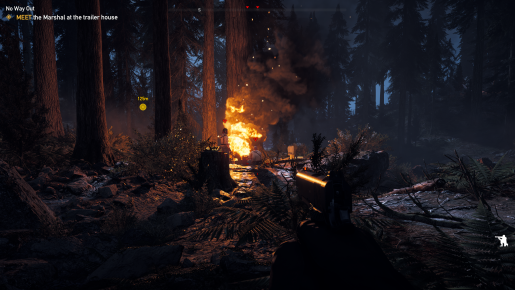 Verdict
Overall, Far Cry 5 does what the rest of the series was successful at. It provides a thoroughly entertaining, if not slightly odd, storyline that all just manages to stay on the right side of weird. The world created is, almost unfortunately, a perfectly believable one that feels like a living breathing county. Players will be able to fish their way to getting better weapons and unlock many upgrades aimed at not only making the main character better equipped for taking on Eden's Gate but also to add even more entertainment into the experience. If you're looking for a deep narrative and serious title you'll be disappointed however for sheer fun alone it is hard not to recommend Far Cry 5.
[Editor's Note: Far Cry 5 was reviewed on PC and Xbox One, with the game being provided by the publisher for the review.]