Similar to fighting games, the rhythm genre has benefitted greatly from patches, DLC and things of the like. Instead of having to release multiple versions, hope fans think there is enough content and/or buy it in the first place, they can sell songs separately or in small bundles and constantly support one title. This has lead to some massive releases, such as Hatsune Miku: Project Diva Future Tone, and now DJMax Respect. Combining all the previous songs with some new ones and plenty of upcoming DLC, is it a must for fans of the genre or are there better options out there?
DJMax Respect starts with one of the most interesting openings I've seen in a game. From the song, Glory Days, to all the iconography, it paints a picture of something fans are already painfully aware of, the glory days for DJMax have passed. Complete with references to all the previous titles, iconic characters and even PlayStation Portable, it's truly a welcome touch. The same is true for the setting up game data background, which has a cauldron, complete with UMDs (the format used on PSP) and other lovely items.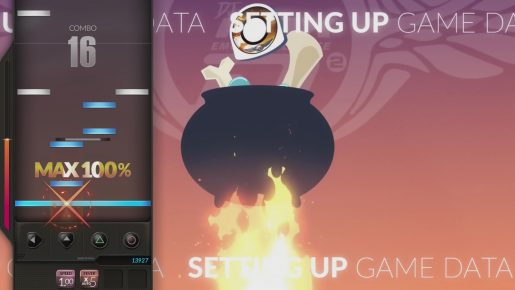 Obviously the opening and a screen most players will never see don't make DJMax Respect a good game but they do highlight the amount of effort that went into making this a truly amazing experience. Keeping true to the franchises reputation, players have a number of options to start their journey, none of which give you an idea of where or how to start. Regardless of where your journey begins, expect it to be a bumpy ride, unless you have a lot of experience with the franchise or games of the like.
Things start off relatively simple. There are four buttons, left, up, triangle and circle, all of which can be changed in settings, with five adding a shared right and square space, six breaking up the shared space and eight adding L1/R1 to the mix. Even if there appears to be a sense of progressing, four will always be the easiest, with the next easiest varying from song to song. Sometimes the triggers will replace otherwise difficult sections, where as occasionally you'll push right/square and need to quickly press something on the same side and not be in a position to do it, something that six button corrects.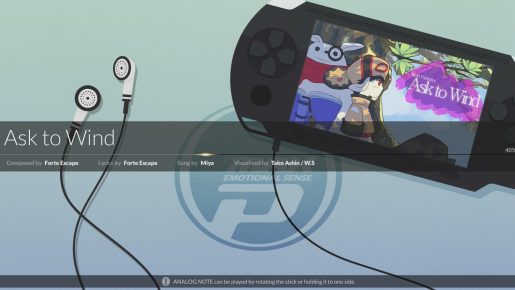 As you get better at figuring out the arrangements and which input style best suits you, it's time to start playing. The trick to being good is to constantly try to improve, while never trying to bite off too much. This can be tricky, especially since I don't agree with several difficulty ratings, forcing players to adapt or find a way around their shortcomings. Sadly, unlike Hatsune Miku: Project Diva Future Tone, it's hard to learn.
While you can be off in DJMax Respect, there are extreme punishments for missing a note. It doesn't take many, around 13 on songs with the upwards of 500, to fail, and even this assumes you lasted a while. Since there is no way to skip to the parts you can't do, it comes down to playing well, overcoming the hard part and then finish. Due to the extreme difficulty there can be a real sense of accomplishment or relief when you finish, especially on a harder song or in certain situations.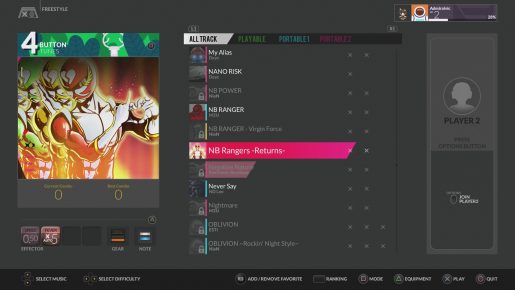 Those who want to take their skills to the next level can try harder or even extreme arrangements or try different modifiers. One of the most important ones is speed, which controls how quickly inputs appear, giving players the chance to find the pace that works best for each song. Some other ones obstruct the inputs, make it harder to gauge when you need to push, change the input speed and more, forcing players to rely on their sense of timing or memorization. These are not meant for newcomers and something that will give even the best players something to work towards.
Those looking for additional challenges can try mission mode or multiplayer. Mission mode makes use of the aforementioned modifiers, specific songs and difficulties and gives players a task they need to complete under certain conditions. So, in addition to having to survive, you might need to score however many points, miss no more than so many inputs and more. Multiplayer can be played online or offline relies on your skill to score more points than your opponent. This can be intimidating, if only for the fact Eastern players have had it for months, though it's a thrilling way to see who is best or push you to improve.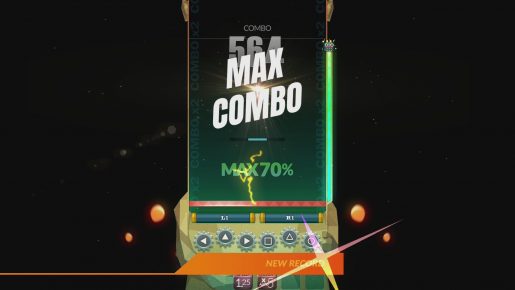 All these things build towards specific feats. As you do more DJMax Respect will continue to expand. Sometimes there will be new songs, other times backgrounds or note designs, making it something worth bothering with. The only downside is some of these might be beyond some player's skill, potentially leading to them not unlocking certain things. This likely can be solved by a microtransaction, though it's a shame certain things might be out of certain player's skill range.
Verdict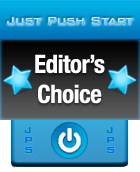 Despite the shortcomings, DJMax Respect is a fantastic game at an amazing price. With over a hundred songs for $50~ and more coming in the future, it's an absolute must for anyone interested in the genre and/or games of the like. Sure, the difficulty can be overwhelming at times and it sucks certain things might take a long time to unlock but there is enough content elsewhere to keep you busy, with the additional stuff giving players something to work towards.
[Editor's Note: DJMax Respect was reviewed on PS4 platform. The game was provided to us by the publisher for review purposes.]