The original release of Assassin's Creed Rogue was funny mainly because it came out in late 2014 and was advertised to be exclusively available only for the aging PS3 and Xbox 360 consoles. The PC, PS4 and Xbox One platforms that year instead saw the release of Assassin's Creed Unity.
Due to this unique choice made by Ubisoft, a lot of people did not have the chance to play Assassin's Creed Rogue and forgot all about it. At the time, people already migrated over to the PS4 and Xbox One consoles and did not want to still play on the older PS3 and Xbox 360 platforms.
I was one of the few people that played Assassin's Creed Rogue originally on PS3 and I actually reviewed it back then too. I thought the game was okay, although the graphics were starting to show their age even back then. Well now I have got the chance to play the game all over again thanks to the release of Assassin's Creed Rogue Remastered out now on PS4 and Xbox One.
Re-releasing games is nothing new, although there are both good re-releases and bad re-releases. The good ones are usually games that totally improve the graphics of a game while also making refinements to the gameplay. Bad re-releases are like the recently released Devil May Cry HD Collection for PS4 and Xbox One that are just straight ports that does nothing new.
Where does Ubisoft's Assassin's Creed Rogue Remastered stand? Well in my opinion it is around the middle as it's great to see more people having a chance to play this game on newer consoles. At the same time though, this remaster still offers little to nothing new for players that already played the game back in late 2014.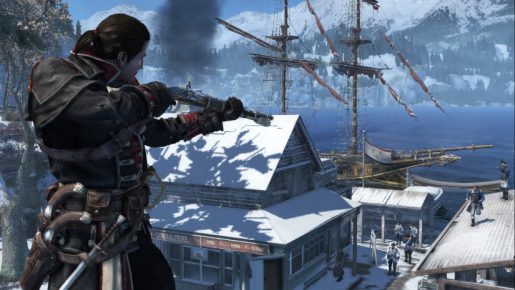 Graphically, Assassin's Creed Rogue Remastered looks smoother on the PS4 Pro (version tested) than how it originally appeared on PS3. The environmental detail isn't as rough and the frame rate is more stable. Not to mention the colors of the game are much brighter than they were before.
That said, the visuals are still starting to look outdated even though Ubisoft tried its best to hide the last generation style of textures. The biggest flaw in the graphics come when you have to look at the character models. In the cutscenes you will see many sequences of the characters talking and all of them look like robotic mannequins. It can be a little off-putting to look at considering visuals and animation technology have improved vastly over the last three to four years.
Even though the character models still look stiff, thankfully the game offers some diverse level design for you to look at. Instead of exploring an old fashioned European city, Rogue allows you to explore islands, the seven seas and even some snowy areas in North America. If you loved playing Assassin's Creed IV: Black Flag, you'll probably love this game if you have not played it before.
Another unique aspect about Assassin's Creed Rogue is that it tells a different story compared to other Assassin's Creed video games released in this past. This is because you play the character of Shay Cormac and he's kind of a traitor. At first he aligns himself with the Assassin's, but one mission changes his tune and he decides to become a Templar instead. Playing the game from the perspective of a Templar is intriguing if you have not played it before.
I won't spoil the story for those that have yet to experience it, but it's worth playing through Rogue if you want to understand more about the lore and history of the AC franchise. There are even some links between Rogue and Assassin's Creed IV: Black Flag that hardcore fans might notice.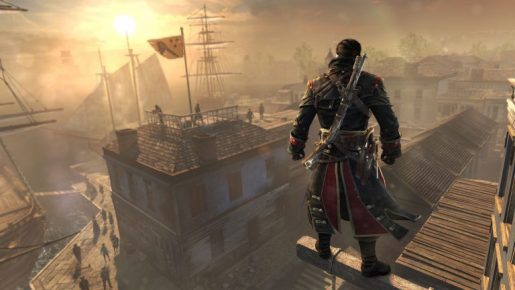 In terms of gameplay, Rogue Remastered doesn't really add anything new for those that played it before on PS3 and Xbox 360. The controls are exactly the same and it features the type of missions akin to the AC series. This includes loads of tailing missions, assassinations and stealth objectives too. If you played Assassin's Creed IV, you'll love the combat here.
Speaking of Assassin's Creed IV, Rogue also offers extensive naval battles for you players out there that love that sort of thing. Several missions take place on the sea where you have to shoot down many other enemy ships. As you progress, you can also upgrade the ship making it more powerful than when you started at the beginning.
The only thing that might disappoint new gamers is the fact that Assassin's Creed Rogue Remastered is one of the shortest AC games released in history. When I played the game for the first time several years ago, it only took me around 7 hours to complete in my first playthrough. It took me 7 hours again to beat it a second time several years later for this release.
Verdict
Overall, Assassin's Creed Rogue Remastered is entertaining if you never played the game before. It's a little on the short side though as most people should be able to complete it in around 7 hours. If you played the game before, there's not much on offer here as the gameplay is exactly the same and the graphics aren't really a huge improvement.
[Editor's Note: Assassin's Creed Rogue Remastered was reviewed on the PS4 Pro platform. The game was provided to us by the publisher for review purposes.]