One of the best and worst things about games like Monster Hunter: World is trying to find time to unlock it all. There is always going to be an opportunity cost, be it chasing after specific armor, HR, palico upgrades, trophies, features and oh so much more. One of the easiest to overlook are mantles, boosters and the unique pigment.
Unlike a lot of things, mantles and boosters are a great way to supplement your build and do so in a way that isn't costing you much. What they do ranges from free healing to generating cash for you team to even unlocking specific skills. They're a must if you plan on sticking around for the long haul and extremely useful if you just want to supplement builds. With this in mind, this guide will help you unlock them all.
Editor Note: Mantles and boosters are listed in the order they're presented in game. In addition to that, since most of these are unlocked by doing one thing, followed by completing a quest, the guide will tell you the method to unlock and then proceed to tell you what needs to be done. I also included whether it was assigned or optional to make it easier to locate.
Mantles
Vitality Mantle
Mission: Assigned – Tickled Pink
Unlock Method: Story related
Ghillie Mantle
Mission: Assigned – Sinister Shadows in the Swamp
Unlock Method: Story related
Glider Mantle
Mission: Assigned – Ballooning Problems (most likely)
Unlock Method: First quest completed in Coral Highlands
Challenger Mantle
Mission: Optional – The Red and Blue Crew
Unlock Method: It should appear when you hit rank seven. If it doesn't, look for someone hosting it and that should unlock it for you too.
Bandit Mantle
Mission: Optional – "Redefining the Power Couple"
Unlock Method: Progress in the story and then talk to Armory
Apothecary Mantle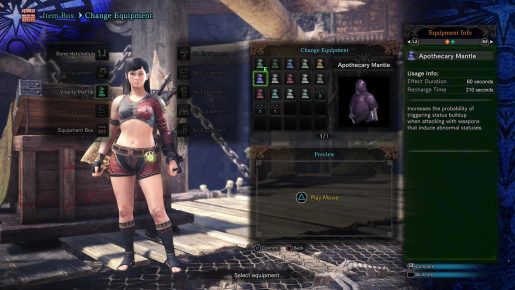 Mission: Optional – A Portent of Disaster
Unlock Method: Fully research 10 monsters (get all the stars in the Monster Field Guide)
Immunity Mantle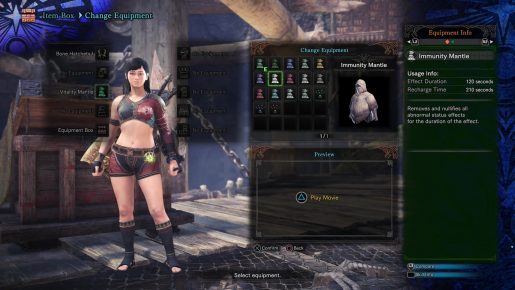 Mission: Optional – A Blazing Sand
Unlock Method: Fully research 15 monsters (get all the stars in the Monster Field Guide)
Impact Mantle
Mission: Optional – Showdown: the Muck and the Maul
Unlock Method: Hunt five different threat level one (Great Jagras, Kulu-Ya-Ku, Pukei-Pukei, Barroth, Jyuratodus, Tobi-Kadachi, Anjanath, Tzitzi-Ya-Ku, Paolumu, Radobaan, etc) monsters
Evasion Mantle
Mission: Optional – New World Sky, New World Order
Unlock Method: Hunt seven different threat level two (Rathian, Legiana, Odogaron, Rathalos, Diablos, Pink Rathian, Bazelgeuse, Azure Rathalos, Black Diablos, etc) monsters
Rocksteady Mantle
Mission: Optional – A Summons from Below
Unlock Method: Hunt three different threat level three (Kirin, Nergigante, Teostra, Kushala Daora, Vaal Hazak) monsters
Fireproof Mantle
Mission: Optional – A Fiery Convergence
Unlock Method: Story progression
Waterproof Mantle
Mission: Armory R&D: Waterproofing delivery
Unlock Method: Progress in the story and collect three Jyuratodus Scale+ and one Jyuratodus Fin+
Iceproof Mantle
Mission: Armory R&D: Weatherizing delivery
Unlock Method: Progress in the story and collect three Paolumu Pelt+ and one Paolumu Wing
Thunderproof Mantle
Mission: Optional – Gone in a Flash
Unlock Method: Capture multiple monsters and complete their arenas
Boosters
Health Booster
Mission: Assigned – One for the History Books
Unlock Method: Story Related
Cleanser Booster
Mission: Optional – On Nightmare's Wings
Unlock Method: Story related
Affinity Booster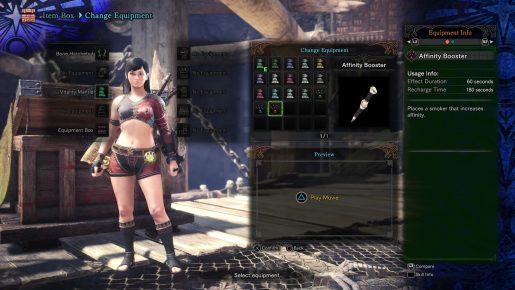 Mission: N/A
Unlock Method: Complete all the quests in the research base
Pigments
Rainbow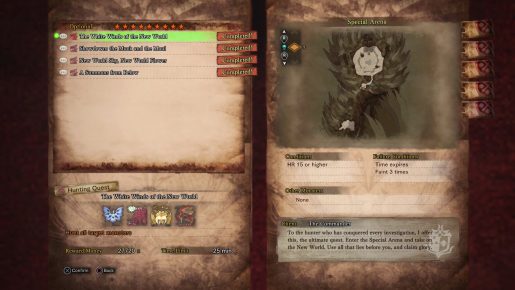 Mission: Optional – The White Winds of the New World
Unlock Method: Complete every mission between one and eight stars