Manhattan, originally released back in 1994, has just be re-released by FoxMind and Mandoo Games. This new colourful version has the same city building, area control and hand management mechanics as the designer, Andreas Seyfarth, originally intended. The game sees 2 – 4 players spend around half an hour placing skyscraper building blocks onto six cities, originally areas of Manhattan. However, does such an "old" game still excel in the modern age of board games? Let's find out!
At each player count things are done slightly differently, though these are only minor variations with the core gameplay staying the same. For the standard 4 player game things start off with each player picking a colour, getting the associated building elements (the blocks) and player board from the box, shuffling the cards, dealing 4 out to each player and choosing a side of the board.
A 4-player game is played out over 4 rounds (again this is adjusted depending on the player count). At the start of each round each player chooses 6 building elements and places them onto their player board. Blocks come in 4 sizes, ranging from 1 – 4 floors tall. The more floors a block has the less of them a player has available. These chosen 6 are then the only elements the player can place during the round.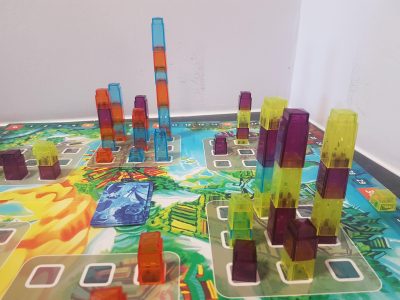 On their turn players will play a card from their hand. These cards have small 3×3 grids on, which match the 3×3 grids on the game board. Cards come with an indicated square of where that card allows you to build. As a blank 3×3 grid would be identical if rotated where you sit around the board is important. Playing the card down in the direction you face the board indicates which spaces you can place a block into. For example, a card with the top right of the 3×3 covered allows you to place a building element onto one of the top right squares of the six grids. The exact same card played by an opponent opposite you would be top right for them but bottom left for you, as they are looking at the grids from a different perspective.
Once a card is played the active player then chooses which of the six cities to build in, on the denoted square. However, there are some limitations that may rule out some options. Players can build on top of opponents' pieces as long as the split of floors in the building afterwards is either balanced or in their favour. So, if an opponent has a 3-floor building element and you already have a 1-floor building element there, you could place a 2-floor block or taller. Before moving onto the next player, the active player then draws up to 4 cards and play then continues.
At the end of each round, when everyone has placed all 6 building elements, it is time for scoring. There are three was to score points, the first being to be in control of the tallest tower, which gains you three points. Next, for each of the 6 cities, the grids of 3×3, whomever controls the majority of the skyscrapers gains two points, with a draw awarding nothing. Finally, players gain a single point for each building under their control. After scoring it is a bit like rinse and repeat, where players then choose 6 new building elements and a new round begins. After the fourth and final round of scoring the overall winner is crowned.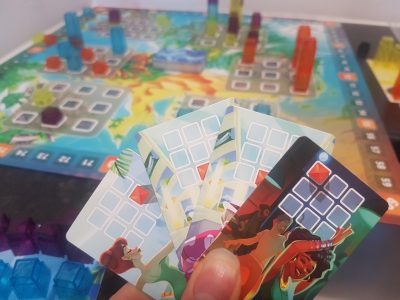 Unlike a lot of games there isn't a special end of the game additional scoring, though tallest building in the final round can be used to split an otherwise tied victory. There is a difference between the rounds though as the board run out of free squares, forcing players into conflict. As mentioned there are some differences at other player counts but the core stays consistent. What changes is in a three-player game is only four building elements are selected each round, but six rounds are played. For two-player games there is a bigger change with each player controlling two colours separately, though points are consolidated after the final round.
Due to the way players must choose their building blocks before the round starts there is a trade-off decision to be made, before cards are even played. Do you go big and try to really stake your claims early on? Does this reveal your intensions too much? Should you hold onto those 4 floor building elements for a later round? These options are available to you and alas I have lost while employing either tactic, so there seems to be balance to whatever approach you want to take.
Manhattan may start out low but before long, with stacked up skyscrapers, the board is transformed into something with real table presence. There is somewhat of a disjoint from the name of the game and the aesthetics. There are vivid coloured tropical-like islands on the board, and vibrant colours used for the skyscraper blocks, but if you can get past this disparity it creates a fun visual experience that welcomes and draws in players. The transparency of the blocks is great when light shines throw them, almost looking stained glass-esque. This does result in the number of floors being hard to judge at times, especially if not close to the board.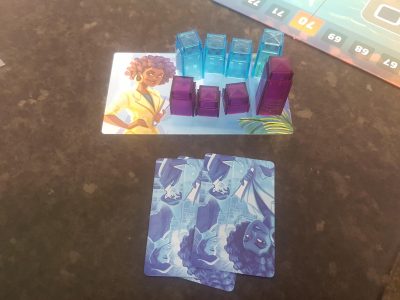 The way the same cards result in different locations from different directions around the board is a great way of using one centre draw deck. It also keeps things intuitive as you can easily match up what you can see in front of you with the cards in your hands. This can become an issue though if you're unable to sit around a small square table to play. Leaning and stretching longer distances is a minor issue but if you cannot sit looking at the board from your direction, having to visualise where the squares are, takes away from the otherwise streamlined placement gameplay. Most gamers won't struggle with this but when teaching new players its best to let them face the board from the ideal angle.
Manhattan works well and any player count, due the slight rule tweaks. Don't let the bright, simple look fool you. Manhattan can be an incredibly counter-based cutthroat game, with buildings being heavily fought over. For a game all about building up skyscrapers there's a certain cold war vibe in the first round. After a number of the spots on the board are filled the fight for control will begin. Once this construction based warfare is initiated there is no going back and players will almost go out of their way to claim a building from an opponent rather than the dwindling free locations. This is definitely when the fun begins and the ruthless side of construction and sky scrapping monopolies starts to flourish.
With two players the swing of potential points throughout a round is immense, so timing when to reveal the locations your striving to claim can be key. As the player count increases the back and forth nature decreases, leading to an experience where the board can change enough between turns for your plans to be interrupted. As a result, a four-player game becomes more about reacting rather than pre-planning.
Manhattan might be an old game but it doesn't play like one, nor with the bright colours does it look like one either. There is a simplicity that allows Manhattan to be taken from the shelf and within minutes the game will have already begun. Objectively there is nothing complicated, no special rules to follow, simply build across the six cities to claim the tallest tower, the majority in each city and control as many buildings as possible. While there aren't any inherent comeback mechanics it is incredibly hard to stay on top for all 4 rounds. As soon as a leader starts to break away the rest can drag them back by taking control of only a few buildings. Some will enjoy the new bright colourful aesthetics of this edition. Love the visual experience or hate it, the core game below is what earns Manhattan a place on my gaming shelf.
[Editor's Note: Manhattan was provided to us by Asmodee UK for review purposes. For all board games check out 365 Games. Find the game at your local board game stores, find your local store here]