Earlier today Monster Hunter: World launched the Street Fighter V crossover event. This includes a couple special items, some of which are paid, in addition to an unlockable Ryu costume. Sadly, the event is currently limited to those with Street Fighter V data, with it opening up to all later this week, though anyone with the data or knows someone with it can join the quest and earn the prizes.
To find the event, simply go to the Gathering Hub, talk to the arena quest giver, select challenges and you should see Down the Dark, Muddy Path listed. Select this, do the quest and you'll unlock materials needed to craft the Ryu armor.
Since this is an arena quest, you do have to do it with specific gear. I found the best way to do it is two dual blades and cycle through your items. If you get the Barroth in all four traps, two or three paralyzed, poisoned and set it to sleep a couple times, you can easily finish it in under 4 minutes with minimal to no effort. If someone is interested I can post a video of this but it's pretty straightforward.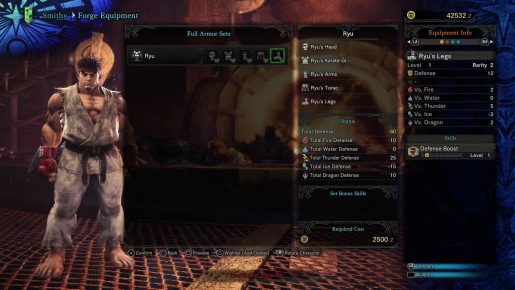 Unfortunately, the armor itself is a single set, meaning you have to accept the build and like the Horizon: Zero Dawn set, is low rank. This means it has no post game functionality and is more a novelty than anything else. The armor takes about three runs to unlock and said mission also has a gold crown Barroth.