Seabed Prelude is a VR-only rhythm game for the Oculus Rift or HTC Vive, available from either Steam or the Oculus store from developer MythicOwl. The game gives you control of a bathyscaphe, which is a type of submarine, which is equipped with some kind of musical instrument as a weapon. The majority of the gameplay involves playing this instrument, matching the notes of the accompanying music to clear obstacles in path you are traveling along.
There are two instruments to choose from: a fairly traditional organ with a piano-like keyboard including sharp notes, or Tesla coils. The organ works as you expect, where hitting a key plays a note depending on where you hold your hand between the two vertical coils, indicated by coloured lightning linking the coils through your hand. Instead of gloves or realistic hands your controller locations are instead indicated by pirate hook-hands, which fits the nautical theme but did come across as a little jarring.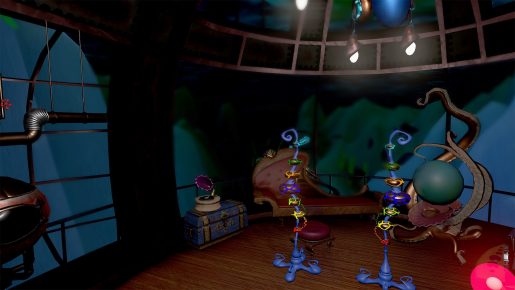 The note-matching gameplay is pretty much exactly what one would expect, with a track showing upcoming notes and whether they require a single or a sustained press. One crucial difference between Seabed Prelude and other games with similar note-matching mechanics is that every note must be pressed in sequence, and must still be pressed even if you miss the moment that the note should be pressed. This can prove very frustrating and generally worsens the situation if you do miss a note as it throws the note-pressing rhythm.
Each sequence of note-matching musical gameplay is punctuated by a visit to an underwater station, which acts both as a menu and as a method of expanding the storyline. Unusually for a game of this type Seabed Prelude does have a narrative, seeing the player search for clues to determine why the world is in the post-apocalyptic state you find it in. This searching is done by remote-controlling a drone from the safety of your bathyscaphe, which is accomplished using the analogue sticks when using an Oculus Rift. While this is a pleasant diversion I sadly just didn't find the story interesting enough to be compelling, leading players not invest into what happens.
Visually the game is pleasant enough but the level of detail is a little disappointingly low within your own vessel. Gameplay elements like the note track and the instrument you are playing are very clear and menus are easy to navigate so the most crucial elements work well, but this isn't the game to go to for eye candy.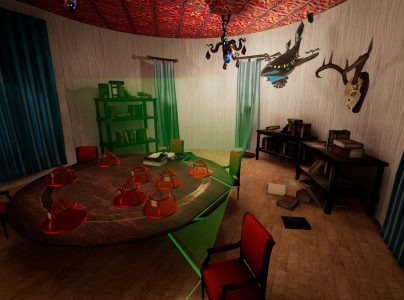 The game should not be expected to take more than an hour to an hour and a half to complete, though there is a significant amount of replay potential if you're enjoying it by upping the difficulty. Helpfully you can modify the difficulty on the fly during gameplay, which is achieved by adjusting a lever to change the speed with which you progress down the track, thereby changing how quickly you have to react. The difficulty range is enormous, from painfully easy to nightmarishly difficult so there is bound to be a setting suitable for just about anyone.
Seabed Prelude is a reasonably entertaining diversion for a short time, which is reflected in the £3.99 price tag. There are better examples of rhythm games for VR (Audioshield being my personal pick), but Seabed Prelude is distinct in that it does have a story and some alternative gameplay between songs. This is a game which is probably best for people who have played some similar titles and want to vary things up a little without spending too much.
[Editor's Note: Seabed Prelude was provided to us by the developer for the review. The Oculus Rift was the VR headset used to review the game.]