At first glance you'd be forgiven for thinking that Staxel is some kind of Minecraft clone, but in terms of gameplay it actually stands a lot closer to Stardew Valley or Harvest Moon. While the landscape is built mostly from cubes the detailed plants and objects along with an almost overwhelmingly vibrant colour palette do give the game a pretty unique aesthetic. Staxel has just released on Steam early access and features both singleplayer and online multiplayer.
When you first start the game you will be presented with the option of going through a tutorial which will end up with you receiving a farm licence; at the moment this isn't really optional as the items provided for you during it are fairly critical. Fortunately, the tutorial isn't too arduous and does introduce many of the mechanics well while still leaving some things for players to figure out by themselves. Farming forms a big part of the gameplay, hoeing plots of land to prepare them for seeds and then keeping them watered each day. Early on you'll be buying seeds from the village shop, but later machines are available to extract seeds from the produce you grow so you can be self-sufficient.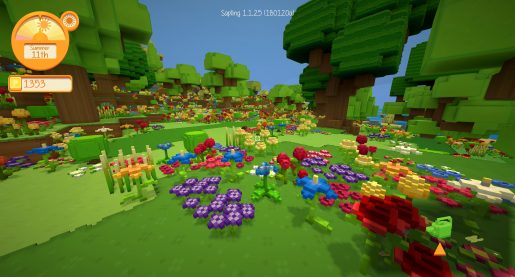 While you can just sell produce directly it is always more profitable to process the goods, normally into foodstuffs. This and other crafting is performed at workbenches – there's no single bench as you might expect from other games, instead there are specialist benches for each task. An advantage of this is that each bench has appropriate equipment on it many of which animate while the task is performed. It's a small thing but seeing logs being pushed onto the saw-blade really does help sell the look of crafting.
While working out the end products like a nice stew or soup for later sale is a core part of the gameplay as you will need petals (the currency) for a lot of things, there are other reasons to take to the crafting tables as well. Foremost among these is to create building materials, because construction is another big part of the game. One of the early tasks presented to you in the tutorial is to build a barn so you can get going with keeping cattle. Building the barn starts with setting out an area for it using a sign, which also gives you a checklist of items to include, like a roof and food troughs.
Actual construction works block by block where each cube is perhaps half a metre across, which gives a less coarse look than some other 'voxel' games particularly with differences in surface relief which some materials have. There is a huge quantity of different building materials and objects, both decorative and functional, to be placed with in Staxel. So, players can achieve a wide range of different appearances of builds, though of course having yet more options would only be a good thing. The actual process of placing blocks is similar to Minecraft, though the ability to hold a button to prevent yourself from walking off block edges as in that game would be appreciated in Staxel, particularly when it comes to constructing a roof.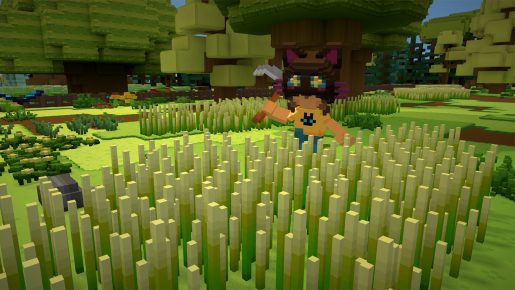 Some construction materials can require quite a lot of crafting work and time to put together, so in the end just buying the materials often proves simpler. Early on purchases will be made from shops in the village, but later you can buy a shipping catalogue to have items delivered right to your farm. This is a feature which will probably split gamers; it is the ultimate vendor, enabling players to purchase any item in the game. All a player needs is the right amount of money and a day later those items will turn up packaged neatly in a crate, and for an additional Petal expense items can even be instantly delivered.
The shipping catalogue makes building what you want much easier, and lets you focus on a particular way of making petals which you like to get access to all of the content. The downside to this is that it does take away from numerous mission objectives players may be given, particularly the building construction objectives. Instead of finding parts, building up from raw materials, players merely need to earn some Petals and click a few times to have all the parts they need to construct a house, patisserie shop or whatever else they wish.
Staxel performs well overall, with the frame rate consistently staying at 60 on my system, and the interface automatically scales with screen resolution so it plays perfectly on a 4k monitor. There are disappointingly few video options available, most notably being a lack of a view distance setting. There has clearly been some thought for this as there is an increased view setting in the debug menu, but this results in poor LOD transitioning and generally a somewhat strange experience. The standard view distance is very short though, with LOD pop-ins occurring constantly at distances where it is very obviously taking place. Hopefully this is something which will change as the early access period continues.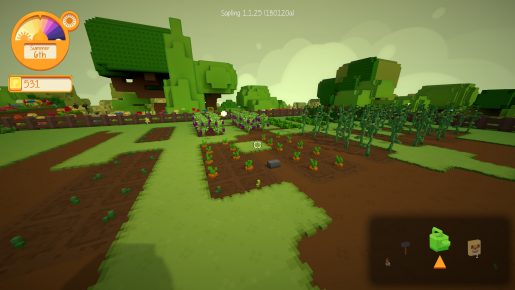 Multiplayer uses a dedicated server system, but it is very easy to run one of these on your computer and join it along with your friends. An option to run the server appears when you launch on steam, then there are only a few settings you need to deal with before clicking run and all the details like port forwarding are handled for you. Playing on servers the game ran just as well as in singleplayer, which is great as the game really shines when playing with friends.
All in all, Staxel is already an entertaining game, with a lot to do, but perhaps a few issues with how certain things are balanced and missing a few things which one might expect to be there. A good example is wine-making; I was surprised to not find any way to grow grapes to set up the vineyard I'd been thinking about since first opening the game up. There are plenty more features which it would make sense to add, particularly some more activities to do underground, be it in the mine already on the island or from digging your own (I spent quite a while tunnelling as you would in Minecraft, but didn't get anything much out of it). The promise of more content as the game develops is enticing, as is the inclusion of steam workshop and modding support. I am confident that I will keep returning to Staxel as it evolves, and this is definitely a game to have a good look at if you're a fan of Stardew Valley or simply enjoy games with a more relaxed pace.
[Editor's Note: Staxel was provided to us by Plukit for the review.]