Petersen Games last year released two fantasy style games based upon the same video game IP, Orcs Must Die! The Board Game: Order Edition and Orcs Must Die! The Board Game: Unchained Edition. By themselves each board game is playable cooperatively by 4 players. By combining them up to 8 players can fight it out as part of two team. Based on the video game the basic gameplay is all about cooperation as your Rift is sieged. A range of miniatures are included across the two game boxes, such as trolls, gnolls, orcs and more! However, do the concepts of the franchise translate through the change of medium? Let's find out!
In this review I'll talk mostly about the basic cooperative gameplay, which is available from either of the standalone game boxes. There are differences between the two in terms of characters and enemy miniatures but the general experience is identical. As an example of the differences, the Order Edition sees heroes Maximilian and Gabriella, the most commonly recognised characters, take on orcs while the Unchained Edition comes with Sir Winston and Bloodspike to defeat human soldiers, bears, dwarfs and more!
Like in the video game, players must survive a horde of enemies coming their way, whilst defending the Rift. Players each control a single hero miniature on the modular game board. Heroes come with an individual stat sheet; making it easy for players to sort their gear, as well as knowing their special ability. Once heroes are chosen the board must be constructed. These will be different depending on the difficulty players want to go for. Despite their being an entire rulebook dedicated to maps there is nothing stopping gamers from constructing their own levels, adding to the potential replayability.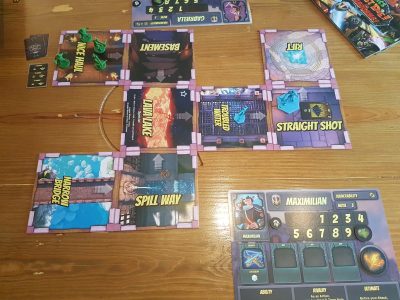 The sequence of play is easy to follow and after a turn or two will feel natural. First is when heroes become mightier, as part of the hero upgrade phase. Essentially, this is when the battle pauses briefly for a spot of shopping for gear and traps. Before heroes get a chance to use any new weapons it is the minions turn! Units already on the board advance towards the Rift along the tile path. Next, new units then spawn via the Army card deck. Traps now attempt to thin the ranks. When it comes to triggering the traps, it is possible for all players to get involved but often it's best to do one tile at a time.
If enemies still reside on the Rift tile, barring special cases, they vanish taking a chunk of Rift health with them. Enemies that are still on the board and not stunned by traps then attack Heroes if possible, though a group will focus only one hero if given the choice of two. The final minion action sees any stunned enemies recover by standing up.
A lot has happened since the heroes purchased gear but it is now their turn to deal some damage! Each hero can perform 4 different actions: attack, move, push and any special ability they may have. If a hero is stunned they can recover instead of taking any action other than push. Attacks are the bread and butter of attacking, though the damage dealt will depend on gear. Work out what you should be rolling dice wise, add up the symbols and use them against the enemies as you see fit.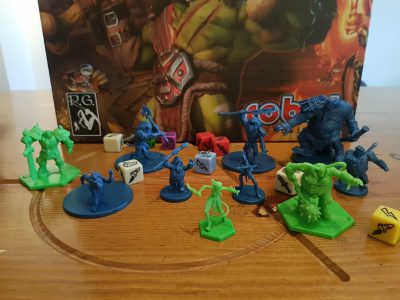 Push is one of the most interesting as it is only available on the Lava or Acid tiles. On these tiles a player, or players, discard cards to push a minion into the danger below. This is a neat way of utilizing bad gear: though for balance these tiles can't have traps built on them so to some extent make the game harder, despite providing a dedicated action.
After the heroes have run around and dealt as much damage as possible, gaining a skull for each minion killed, it is time to move into the upkeep phase. If the third and final Army card of that level has been used it is time to advance the level marker on the rift display, unless it's the final third level already. At this level up phase all minions, including those in play, get stronger. Players gain skulls equal to the level, a way of granting experience points. The Rift display, or shop, is cleared and new gear becomes available. At this point any dead heroes are respawned at the Rift and the game continues. Play keeps going until the end of the third level is reached at this point, nothing new spawns, the shop stops getting cleared and the heroes need only to defeat all active minions to win!
Enemies are spawned via an Armies deck, which indicates what types and amounts of units to add to the board depending on the player count. This system is very reminiscent of how the Zombicide franchise handles spawning randomising the threats. Yes, you can get lucky or punished badly depending on the shuffling, but it keeps players on their toes.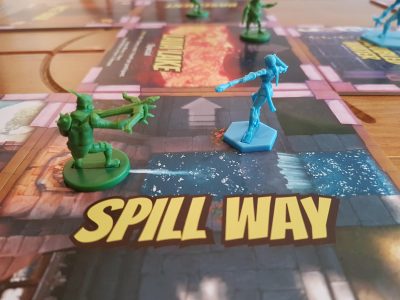 As enemies are culled players will earn skull styled currency to purchase upgrades, traps, items or weapons. Fan favourite traps are all available from the Wall Grinders to a solidly built Ballista. My personal favourite the humble spikes floor trap is still as cheap and cheerful as the video games. It may only deal one damage, so late on it's a bit ineffective, but it can help remove some of the cannon fodder units from play!
Upgrading and buying improved weapons are brilliant for when it comes to combat. Depending on the items players will be rolling a colour of dice. For example, one item that tends to get the nickname of the holy hand grenade, known in Orcs Must Die! The Board Game as a Dwarf Grenade, is a one-time use item that allows two fire dice to be rolled. Killing an enemy unit is only a temporary rest bite as before long a new wave will be charging towards you, but it is important you take everything out. As the final wave approaches players may not be in the best shape but they can see the finish line, if previous waves have been thinned down enough.
Combining the two boxes together allows attacking and defending to be objectives. Bigger maps are possible by combining the tiles and the two teams will be fighting each other, the Order vs the Unchained. This can get a bit hectic even at low player counts, so what a full, 4 vs 4, 8 player game is like I'm not sure but you would need a decent sized table to start with! This combined mode with team based gameplay gets away from the tower defence style elements that I love the franchise for, but the opportunity is there for players to shake the game up from being a solely cooperative experience.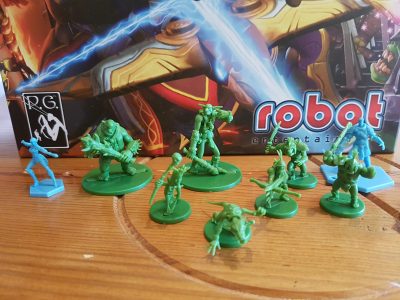 It doesn't matter which of the standalone games you go for both come with some incredible miniatures. They give an instant wow factor to the game and the variety in races, which in turn give a sense of size and scale to the battlefield, are spot on. Seeing the walls of plastic charging towards the Rift give players that sense of being up-against it and an urgency that flat tokens wouldn't have been able to provide. Each unit type has its own distinct silhouette which allows the miniatures to be identified at a glance, making the whole game flow the bit nicer.
The maps tiles are thick and chunky with some great artwork that is reminiscent of locations from the video games. Despite this, a few odd design choices have been made. Firstly, each tile has the location written on it in huge font, covering too much of the illustration. Secondly, and this seems like an insanely odd issue to have, but there is almost too much variety. There is no way of having long corridors of matching rooms as every tile is different. If some of the special rooms had a generic castle room style illustration on the back it would have fixed this. Instead of the variety adding flair to the levels they almost seem too over the top.
I've been able to get the full Orcs Must Die! The Board Game experience: playing with both main game boxes, as well as a range of addition hero and monster boxes. They all combine together to create an experience that represents the onslaughts that players face in the video game. My concern is when you start to remove a box or two the game still works mechanically the same but loses some of that completeness. Variety would be reduced and the impact of the game's vastness is reduced. I wouldn't go as far as to say any of the various expansion content is necessary. Alas, fans of the series will want it to get the experiences they expect from the game.
There is a range of dice included in the box, each with their own combinations of symbols. These can make them more effective or just different, as the dice change from Battle Dice to Fire Dice and across to Arcana. There is something about rolling dice that makes you forget the randomness caused by them, allows players to buy into the results, as long as they aren't in a super serious gaming mood. There is some balance to the dice allowing for two swords, speed or brains rolled to be turned into a Wild, effectively being one of the other two types. This can be helpful to get that last attack in, alas doing this consistently wastes dice.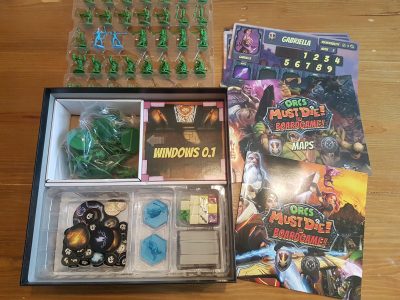 As with any tower defence style game the things that stop the waves of enemies, in Orcs Must Die! The Board Game's case traps and heroes, need to feel effective. Heroes run around the map killing things and that creates an awesome sense of achievement. Traps on the other hand can slide into realms of disappointing. In the video games traps are huge and powerfully cut through whole waves of enemies on their own. In the board game they play second fiddle to the heroes by a long stretch: almost there to take out only a few units, leaving the rest bounding towards the Rift and players. Early on, or on easier difficulties, traps will strike a good balance of kills with heroes but as the game progresses I felt less inclined to build them or rely on them.
The video game franchise is successful as you can jump in, play a few levels and have fun whether you win or lose. Defending the Rift is fun whether your team only just manages to defend it or easily get brushed aside by the onslaught. The issue is that Orcs Must Die! The Board Game isn't as simple to just pick up and play. Responsible for this is a rulebook which you'll either need to read twice or keep returning to during the first couple of games. The fast-paced hectic feeling gameplay gets broken up if you return to the rulebook but you postpone the game hitting the table if you re-read, it's a lose-lose situation. Including some kind of individual cheat sheet style summaries could negate a lot of this and help new player get into the game faster, rather than put off by confusion.
Orcs Must Die! The Board Game Order Edition and Unchained Edition both offer a simple game hiding in a big box. Fixing the rulebooks readability could allow this to be an easy game to get to the table, to become a "beer and pretzels" style game like Zombicide. The two versions will confuse some consumers, but effectively you can get whichever version has the races and heroes that interest you the most.
As suggested, players may feel they need both main game boxes and maybe even another box or two of extra to feel they are getting the full experience but they aren't needed for the fun to flow and dice rolling to commence! Both versions capture the feeling of the videogame, where an onslaught of enemies of differing types is coming at you, with players left unsure if they'll be overrun. If you're looking for a simplistic, but potentially challenging tower defence game this might be for you, if you don't mind outcomes based on a spot of dice-fuelled luck.
[Editor's Note: Orcs Must Die! The Board Game: Order Edition and Orcs Must Die! The Board Game: Unchained Edition we provided to us for the review, along with additional content boxes, by Petersen Games.]