Port Royal is a push your luck card game from designer Alexander Pfister and publisher Pegasus Spiele. The game reimplements the gameplay of Händler der Karibik though ups the card deck from 110 cards to 120. This tweak allows Port Royal to accommodate 2 – 5 players, with the game lasting 20 – 50 minutes. However, for those of us whom never played the original how does the game play and is it worth playing? Let's find out!
Port Royal sees players take up the role of merchants in the Caribbean. The aim is to score a total of 12 victory points across any number and types of cards. Cards come in 4 types Persons, Ships, Tax and Expeditions. While expeditions and persons will be what scores points, ships are a major focus and will give players coins. Coins are in turn used to hire persons which have various costs, that will give benefits or items to trade in for expeditions.
To gain these cards, on a turn, the active player will be drawing blindly from a deck of cards forming a harbour display. Players will be looking to draw different coloured ships. 1-3 different colours will enable the player to pick 1 card, 4 will allow 2 to be selected and 5 different coloured ships allows the player to take the maximum of 3 cards. To give a risk factor if a second ship of the same colour is drawn the player goes bust and gets nothing. Ships come with two values: gold which they are worth and a swords symbol. Having Persons with swords can allow the active player to repel ships to stop themselves going bust, but not all.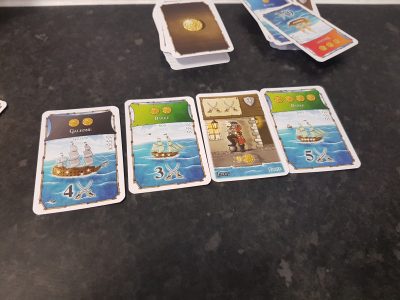 After the active player goes bust or has taken their allocation of cards, clockwise around the table, each other player can claim a card by paying the active player one gold. They must still pay any associated costs for the cards on top of this coin to the active player, making things that bit more expensive. This leaves players hoping cards they want are drawn at any point, even when it isn't their turn.
Persons make up the majority of the deck and come with a range of powers and victory points. These can range from Traders, which give a coin bonus for when a particular coloured ship is claimed; to Jesters, whom gain the player 2 coins whenever it is their turn to select a card and there are more than 5 cards in the harbour display. Some have symbols that correspond to the expeditions which solely score large amounts of victory points. Sometimes it is worth having a few low scoring persons to get the power benefits, compared to a single expedition.
As soon as a player reaches 12 victory points the game end is triggered. Each player, aside from the player that triggered the end, gets to have one final turn. Everyone can still participate in the harbour displays so it is more than possible to end with more than one player above 12 points. In the basic game whomever has the most points wins. There is also a variant, left in as a legacy element from Händler der Karibik, where a player must have completed at least one expedition before they can win the game.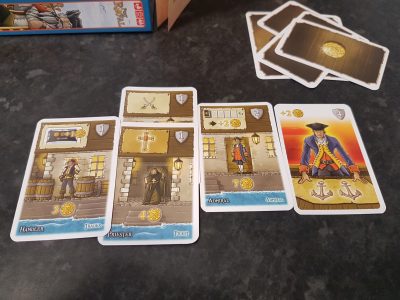 Tax is a brilliant inclusion as it serves as a vague comeback mechanic. In one game I pushed my luck too much early on going bust multiple turns in a row, giving my opponents a head start. They then got caught hording coins when a tax card appeared. It could be the one and only time I ever have verbally cheered the word "tax"! This might sound overly punishing, however, there are only 4 Tax cards in the deck of 120 cards and only effects players with more than or equal to 12 coins. Being caught is further risk players contend with when hording.
The game length is a bit variable as it is increased by the player count, effectively more players take turns to draw cards. Despite there being longer between turns it doesn't feel like wasted time. As there is the potential of gaining a card after other players have drawn cards, everyone else stays invested in what is being drawn: whether it is to cheer at their misfortune or see what would offer them the biggest benefit.
At a player count of two players there is an element of take-that which isn't as prevalent when playing with 3 – 5. This isn't due to card effects but the way players can stop drawing cards at the perfect time. This can result in the opponent not getting a bonus from their built cards, unable to purchase anything or cards which are simple not worth taking (especially given the 1 coin they must pay the active player). This makes games with 2 players feel very cutthroat in comparison to when others join in and the hostility is distributed rather than taken out on an individual opponent.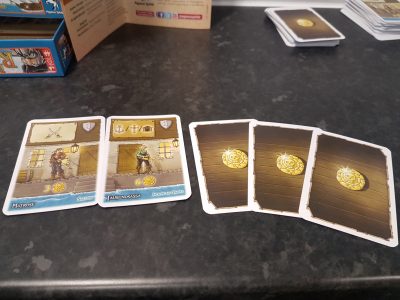 The speed of play in my initial game did cause some worry that Port Royal would fall flat after a handful of plays. On the contrary, as players continued to play the risky elements started to become more prevalent and the pace of the game picked up. Each time a small amount of time was being shaved off until with 4 of us we were consistently hitting the 30-minute mark. As soon as new players joined the timings once again increased but this fluctuation is to be expected.
The push you luck mechanics are a heavy aspect of the game. Unfortunately, they don't seem to do enough to entice players into risking going bust. The structure of different ships to gain cards seems weighted towards only ever getting a single card. To gain two cards a player must draw 4 different colours which is extremely rare: a feat I've so far only ever seen happen a handful of time. Dropping this to getting 3 – 4 differently coloured ships seemed to encourage more players to gamble, and it only slightly increased the success rate.
Port Royal has a rather old styled theme to it, which works well with the Pirate/Caribbean setting but is a bit uninspiring. As ever, the gameplay is unaffected but as the card artwork isn't anything to get excited about it is hard to encourage players to give the game a try. Often players look at the cards and feel the experience will be a tad dry, instead of the fast, push you luck gameplay that's on offer. While the artwork is lacklustre the iconography used is clear and concise making teaching the game a breeze. Aside from the exact Person benefits the icons make the game intuitive to pick up, getting players into the mood for pushing their luck.
When not playing the original variant, when an expedition is mandatory, the ways to win are rather varied. This allows players to react to the cards that are becoming available to them on their turns, and again if an ideal card is available from the harbour display after another players turn. This ability to react does require coins but can see players changing strategy as specific Person powers become available. Should players go down the early sword route to repel ships as they come up? It's a helpful strategy until an un-repelable skull ship comes along. This is a prime example of how the game balances each approach on offer to players.
What the game lacks on the artwork front it makes up for in being clear and intuitive to play. The game length is perfect so that each turn feels fast paced and results in a game that doesn't outstay its welcome. Each turn, not even just your own, comes with a decision to make; both limiting downtime and keeping those around the table engrossed. Port Royal has to some extent shown me that push your luck style games are not for me, though many have thoroughly enjoyed trying the game out with me. For that reason it has earnt its place on my gaming shelf even if I won't always spring to play it myself.
[Editor's Note: Port Royal was provided to us for the review by Pegasus Spiele.]