Season Two of Minecraft: Story Mode reaches its conclusion with episode 5 entitled 'Above and Beyond'. This story mode has been an epic ride, although does this new chapter end the season with a bang?
To get you up to speed with the story, Season Two has been pretty much a battle between the player's character Jesse vs. the evil Admin who is like a villainous god. Jesse and his/her friends will have to go in deep to take down the Admin once and for all and take back Beacontown.
Episode 5 'Above and Beyond' starts in interesting fashion because the Admin has been using Jesse's appearance as a disguise. Many of the residents are now scared of the sight of Jesse, even if it's the real human version looking at them!
The start of the episode is more of a stealth-like approach as Jesse and his/her pals have to infiltrate the Admin's base without being seen. Along the way, you can talk to some other characters although you will have to hide your real identity to avoid suspicion.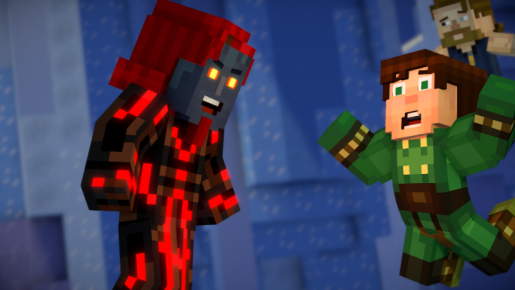 The first half of this episode kind of starts off pretty slow, but thankfully things start to pick up towards the end. This is when Jesse is able to find a gold gauntlet and can finally battle the Admin toe-to-toe. The gauntlet allows Jesse to become almost as god-like as the Admin himself.
Once Jesse faces the Admin, you are thrust into an epic boss battle that has multiple parts. Sure there are many quick time events to go through, but there are also more traditional gameplay during the fight too. The ending boss fight is one of the most satisfying ones to play through and it's an epic conclusion to the season.
I don't want to give away too much about what happens, but there is a lot of replay value on offer because your decisions affect the fate of certain characters. It's advisable to play the game more than once to see all of the possible outcomes that it offers.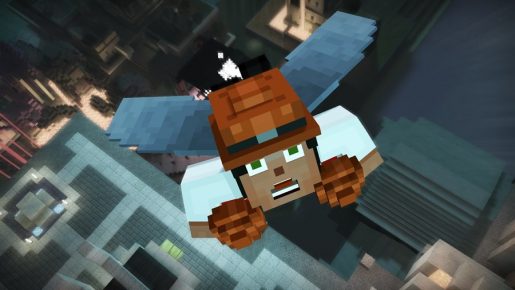 I've played every episode of Season Two so far and I'm surprised how much I have liked the characters and story. Minecraft: Story Mode Season 2 is much more enjoyable to me than Telltale's Guardians of the Galaxy and Batman video games in my opinion.
However, if you hate quick time events you will most likely hate playing this game. Not to mention the old-school style Minecraft graphics are hard to get used to if you are watching a lot of cutscenes. I understand that this is how Minecraft looks like, but it still looks weird when emotional scenes are happening in the story.
Verdict
Anyway, Minecraft: Story Mode Season 2 ends on a high note with episode 5. It has a decent conclusion and one of the best boss fights I have ever played in a Telltale video game. Season 2 will make a perfect Christmas gift for anyone in the family that loves Minecraft and Telltale video games in general.
[Editor's Note: Minecraft: Story Mode Season Two Episode 5 'Above and Beyond' was reviewed on the PS4 platform. The game was provided to us by the publisher for review purposes.]