Nightingale downs is a small indie game by SimProse studios, now available on Steam for $2USD or regional equivalent. The game uses a classic top down RPG format with fairly cute 16-bit graphics. The unusual hook for the game is that you play as a deer, protecting the forest which is your home from the machinations of humanity.
Each area of the game is a separate screen which you can move around using the arrow keys or the mouse (not WASD for some reason), where each step might bring you into a combat encounter. The combat is a very traditional RPG approach, using turn-based combat rounds which always reminds me of the Pokémon games. As you might expect you have to manage your health (blood) and mana (spirit), which can be easier said than done, due to the combat balance which seems to be a bit all over the place. Most combats I either won taking little to no damage, or was brutally killed almost instantly.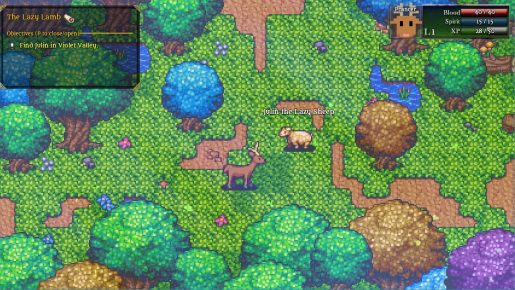 Despite the cute graphics and setting the combat abilities are a little on the grisly side, with my favourite attack being blood pummel which seems to be beating your foes and then using their blood to heal yourself. This is particularly disturbing when you're dealing with enemies such as a perfectly innocent dirty pig or a lost puppy… Unfortunately the protagonist comes across as a standard videogame lead, taking the approach of biting and pummeling almost everything that moves without any attempt to talk to or negotiate with the humans you are supposedly investigating.
Resorting to the standard videogame violence approach seems like a missed opportunity, particularly as the combat is not very satisfying and suffers from an awkward user interface. Pretty much every part of the game suffers from awkward interfaces and strange button mapping, which is particularly irritating as the game doesn't last long enough for you to really get used to them.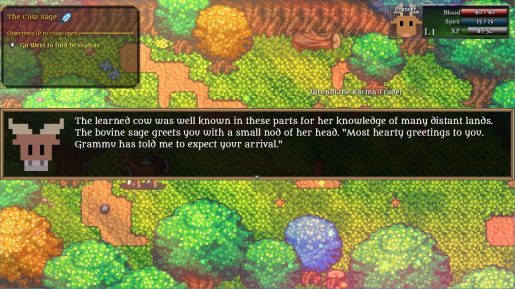 While the game can be run in a fullscreen mode this is achieved by simply scaling up the low-res sprites from the windowed game including the interface, which makes everything look a bit muddy particularly on a 4k monitor. While not ideal this approach does mean that the game is at least playable on any resolution monitor (at least with a 16:9 aspect ratio, I have not been able to test any ultrawide or other unusual format monitors).
During my time with the game I did experience a few bugs, most notably a main quest which marked itself as complete without me doing anything. I expect that Nightingale Downs would run on almost any hardware, though even with a very powerful gaming rig scene transitions were still longer than one might expect, running from an SSD. Though this is more irritating than a real problem.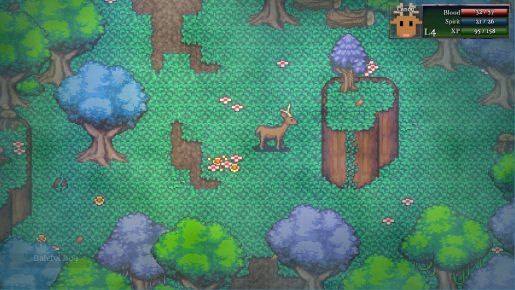 The low price tag for the game is reflected in the run-time, taking me a little over an hour to finish including all of the side quests. If you get unlucky with the combat then it may well take a bit longer but this certainly isn't going to take up much of your time, which is a good thing because even with that short duration the gameplay was already starting to drag. The real problem with the game though is that the writing isn't good enough to offset the bare-bones gameplay, and doesn't live up to the unique promise of the setting. All things considered you should only look at picking this up if you really like the idea of playing a game as a deer, and are willing to put up with some mediocre writing and dodgy gameplay while you do so.
[Editor's Note: Nightingale Downs was reviewed on the PC. The game was provided to us by the publisher for review purposes.]