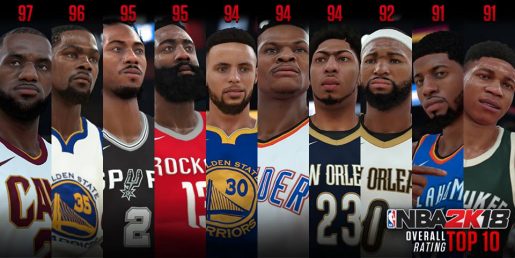 The top rated NBA 2K18 players have now been revealed. Who is the best current player in the NBA today? The list may or may not surprise you.
Obviously, the top rated players in NBA 2K18 feature all of the all-stars. Even if you are a just casual fan of basketball, the list should include some recognizable names. The top players are listed below.
1) LeBron James
2) Kevin Durant
3) Kawhi Leonard
4) James Harden
5) Stephen Curry
6) Russell Westbrook
7) Anthony Davis
8) DeMarcus Cousins
9) Paul George
10) Giannis Antetokounmpo
NBA 2K18 is out this September 19th on multiple different platforms.