Telltale's Batman: The Enemy Within is Season 2 of the series that serves as a direct sequel to the first game. Much like every other Telltale video game, this title makes your choices matter and this affects the direction of the story and characters you encounter. There is a lot of replay value you can get here.
If you played the first game, you can continue the story so your choices matter in Season 2. That being said, you can just choose the default settings if you are new to the franchise. Either way, Episode 1 of Season 2 kicks off with a bang as the opening chapter is exciting.
The Enemy Within focuses solely on The Riddler as the main villain. In this version of the story, The Riddler was a criminal in Gotham City many years ago but disappeared. Now he's back and Batman has to find out why he wants to haunt Gotham City again. As expected, there are many riddles for you to solve and the story plays out in many unpredictable ways.
The opening chapter of Season 2 is great because Batman has to save some hostages being captured in a casino. Commissioner Gordon gives you support, although you can choose to play things stealthily if you wish. Many of Batman's cool gadgets come in handy here.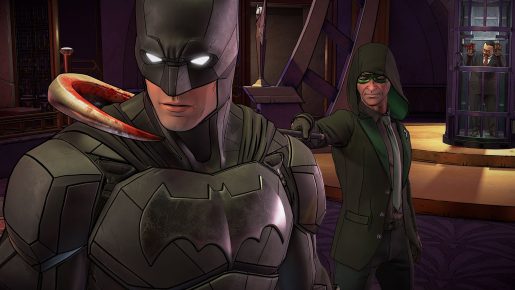 If you are new to the Telltale games, you have to know that they act more like interactive stories rather than have traditional gameplay. When Batman fights in this game, all you are doing is a series of many quick time events (QTEs). If you hate QTEs, you are better off playing the Arkham series instead.
However, this does not mean the lack of gameplay isn't a bad thing. The story is what is most impressive about Telltale's Batman: The Enemy Within. The more you play the game, you uncover more about The Riddler's plan. Even though this is only Episode 1, there is a lot at stake here and your choices affect the outcome of certain characters.
One of may favorite aspects of the entire game is the way you can talk to certain characters as Bruce Wayne/Batman. During my first playthrough, Commissioner Gordon hated the way I talked to him. I chose to work with Amanda Waller instead and Gordon didn't like that one bit.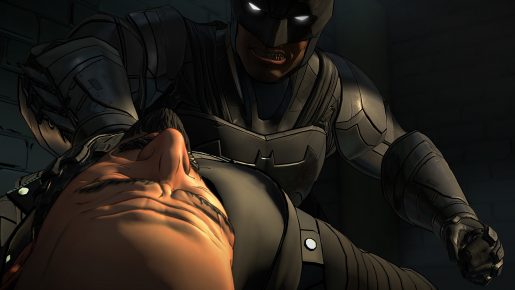 Without giving away too many spoilers, there are sections in the game where you have to solve The Riddler's riddles/puzzles. Batman has to investigate a crime scene to see how a certain Agent died. These sections are by far the best part about Episode 1. It will make you feel like a legit detective solving a case.
One thing I will criticize however is that Bruce Wayne features way too much in Episode 1. The first chapter was cool because you were able to be Batman, but in the middle a lot of the game focuses on Wayne only. The Episode felt like it was lagging in the middle, but it picked up again towards the end.
In terms of production values, Telltale's Batman: The Enemy Within is still a mixed bag in my opinion. As a whole, the voice acting is excellent although there is something off listening to Troy Baker's impression of Batman/Bruce Wayne. He lacks the roughness that Kevin Conroy uses. Not to mention this Batman uses a voice changer which sounds weird compared to the one Ben Affleck uses in the movies.
As of the graphics, they too look a bit janky on the Xbox One. Telltale needs to improve its graphics engine because the visuals look a little too outdated in my opinion. It's the first game in many months I have played this year where I could see visible jagged edges on character models and environments.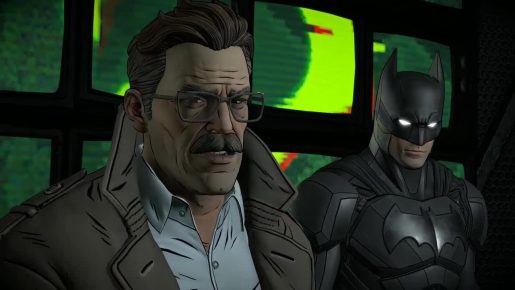 Despite the outdated visuals, the game does portray and accurate depiction of Gotham City. Batman's suit looks pretty cool and many of the other character stay true to their comic book roots.
Episode 1 lasts for around two hours on your first playthrough. This is around the standard length for episodes when it comes to Telltale games. A release date has yet to be announced for Episode 2. Five episodes will be included in total for Season 2 which will give you an approximate playing time of 10 hours.
Verdict: Overall, Telltale's Batman: The Enemy Within Episode 1 is a great start to Season 2. The game has an excellent story and the many choices that are available to you makes the game unpredictable and very fun to play. That said, people that hate QTEs are unlikely going to like this game. Still, it's worth playing if you are a huge fan of Batman.
[Editor's Note: Telltale's Batman: The Enemy Within was reviewed on the Xbox One platform. The game was provided to us by the publisher for review purposes.]
Telltale's Batman: The Enemy Within Episode 1 - The Enigma Review

,