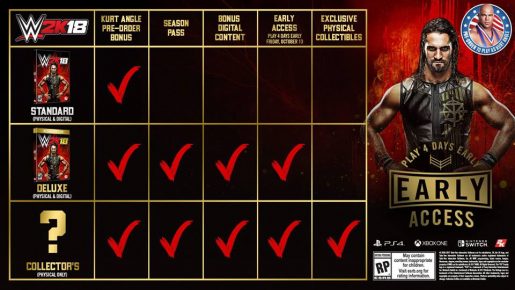 2K Games has announced that the Collector's Edition for WWE 2K18 will be revealed this Thursday. Hopefully it is something worth getting.
The Collector's Edition for WWE 2K18 is for physical retailers only. There's no such thing as a digital only collector's edition.
This version includes the Kurt Angle pre-order, Season Pass, Bonus Digital Content, Early Access to the game and some physical collectibles.
We're not sure what the full collectibles are yet, so we have to wait until Thursday to find out. It's possible the collectibles could be related to both Kurt Angle and Seth Rollins. These two wrestlers are who 2K Games are promoting the most.
The game will be released for PS4 and Xbox One on October 17th, 2017. A Nintendo Switch version is also out this Fall, but a specific release date is to be announced soon.