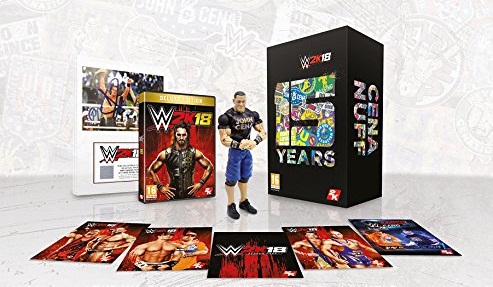 Amazon UK has listed a special version of WWE 2K18 called the "Cena Nuff" edition. It confirms some new WWE Superstars plus other special content that you can get.
It is pretty much a version to celebrate John Cena being in the WWE for 15 years. Not to mention you also get RVD and Batista as playable WWE Legends. The content has been listed down below.
Exclusive Mattel John Cena "Cena (Nuff)" Action Figure.

Limited Edition Piece of the Ring Mat and Autographed Photo from John Cena.

WWE 2K18 Deluxe Edition – Inc. WWE 2K18 Season Pass.

2 Playable Versions of John Cena (ECW One Night Stand – 2006 & Wrestlemania 26 – 2010).

Playable WWE Legends Batista and Rob Van Dam.

Kurt Angle Pack: 2 Playable Versions of Kurt Angle.

Bonus Supercard Content: Limited Edition Cards of John Cena, Batista and RVD.
This version of the game is available to get on PS4 and Xbox One and will be released on October 13th. In the UK it has a pretty hefty price tag of £129.99. In North America, it costs $149.99. Only 30,000 copies of his version exists.