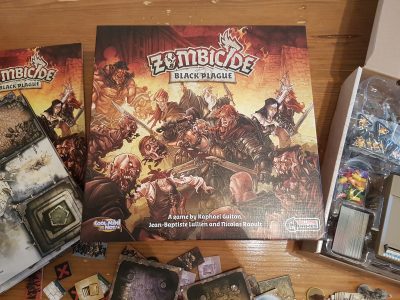 Zombicide: Black Plague is the first foray into a medieval setting for the popular zombie themed franchise. It is a cooperative board game from Cool Mini Or Not, which pits 1-6 players up against a brain desiring zombie horde. Players are sent on a variety of quests, each varying in difficulty, objective style and length. The zombies are ready to stop you in your tracks, so you better have some weapons and spells at the ready!
From the very first time you lift the lid off the box Zombicide: Black Plague offers players a great experience. Thoughts of "this looks complicated" are suddenly washed away by a mixture of excitement and wonder. When you open the compartment for the zombie miniatures this only intensifies the excitement, to the extent you can see players jaws dropping in anticipation. This might be slight hyperbole but the game does entice you in. It stands tall not hiding behind its 55-page rule book.
At the start the miniatures will make players forget there is some reading to be done and make them want to jump in and play. To make the experience of the well written rulebook that bit better there is a plethora of great zombie artwork breaking sections up. These concept art pieces are interwoven into the text and the many visual references that are incredibly useful for new players. The rulebook, with these visual references, is a great example to other board game designers of how to get across potentially difficult mechanics and rules in an easy to understand format.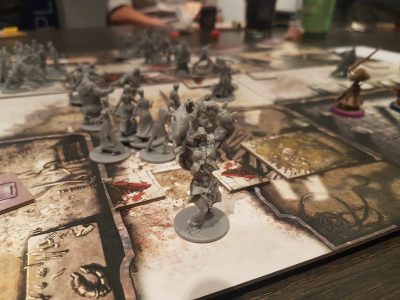 So how do you play Zombicide: Black Plague? Players take up the role of 1-6 of the survivors, each with unique abilities such as a free movement action or the ability to cast a spell for free each turn. Players work together each taking a turn consisting initially of three actions. These actions can be to move around the game board, break open doors, attempt to slay zombies, looting or collecting objectives. Then the inevitable happens…
It's the games turn. Zombies move towards the survivors in their sight or noisy survivors if no-one can be seen. There is a brilliant reason that the game box contains 65 zombie miniatures. New zombies spawn at the end of every round. The severity of the incoming hordes depending on how many zombies players have previously killed. Then and only then do the players get another turn. Remember, this is a mere overview with some examples to paint the zombie filled picture, there's a reason the rulebook is the length it is.
One of the epic parts of Zombicide: Black Plague is that the game board and objectives change depending on the quest you choose to venture on. In this version, there are 9 double sided tiles which add together in countless ways to create the playable game board. Then to add additional variation objectives and zombie spawns can be placed in different places. There are even objectives, coloured on one side with blue or green, which must be collected for something to happen. An example of this is the blue objective being needed as it is the key to the blue door that starts of locked and blocking the exit.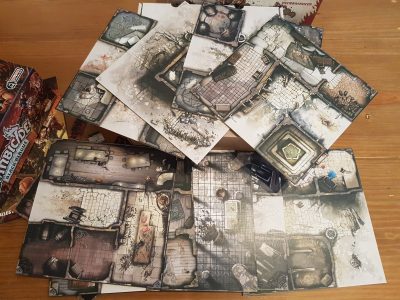 While Zombicide: Black Plague is by no means an entry level game, those whom are coming from a video game view point, this could be a great leap and bound into board games. 'Why?' you may ask. Zombicide: Black Plague feels like a board game mash up of video games such as Left 4 Dead and Warhammer's Vermintide. With its medieval theme players will be coming up against hordes of zombies armed with swords, cross bows and powerful spells.
One of the only flaws with Zombicide: Black Plague is the player elimination. The game needs to be punishing when it comes to players, otherwise players would roam the game board care free. There needs to be that risk factor that your character could die. This being said when a player was eliminated early on in a quest it felt odd that they were removed from the game. Especially when a single quest could last 90+ minutes.