Shiness: The Lightning Kingdom started life as a Kickstarter campaign back in 2014 and has been in development ever since. Three years later and the game is finally out for the PC, PS4 and Xbox One. Unlike other famous Kickstarter video games, this game does not disappoint and feels like a finished quality product.
In recent years, some high profile Kickstarter video games have been disappointing. Mighty No. 9 failed to meet expectations while Yooka Laylee was liked by some and not by others. Thankfully, Shiness: The Lightning Kingdom doesn't fall into this category as this indie game is fun and even offers more gameplay and content than some AAA titles.
Anyway, this game is an action RPG not too dissimilar to the Xbox 360 game of Naruto: Rise of a Ninja. Aside from the bright and colorful 2D graphics that both games share, the combat system is somewhat similar. This is because each and every battle you partake in turns into a traditional style one-on-one fighting game. It's pretty cool because you are essentially playing a game that has two genres mixed into one.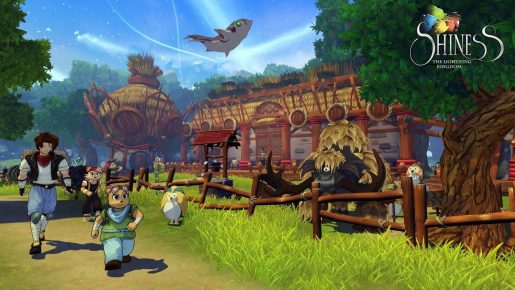 The premise of the game is that you play the character of Chado who is a furry fox looking fellow. His species name is actually called a Waki and they live on a planet called Mahera and it is full of other furry species along with some humans that all live in harmony together.
Things start to change once some Dark Shi permeates throughout the planet and Chado and his friends have to seek out who is responsible for it. There's a lot more to the story as you progress, and the plot never gets boring until the end of it. One of the things I enjoyed most about the game is that many other people can join Chado's party as they find out what the heck is going on to their planet.
The planet of Mahera is quite large and I was impressed by its size considering that this game was made by an indie studio. There's many dungeons for you to explore that have enemies for you to face and some puzzles for you to solve. The levels are not linear as the game encourages you to explore every inch of an area, plus you have to make use of each character's special abilities.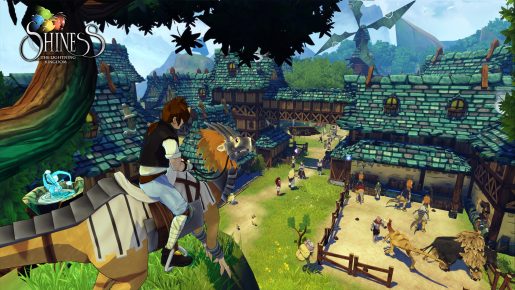 These abilities can include Chado conjuring up a stone so he can push buttons to open new pathways. His friend Poky can charge crystals while another character is able to levitate objects out of the way and more. I do like the fact this game makes players think for themselves as these little to no direction given in order to solve certain puzzles. The only thing you need to do is talk to the characters around you and remember the abilities of the characters in your party.
Arguably, the best part of the game is its combat system. Unlike other RPGs, this doesn't use a turn-based system nor is it a hack-and-slash title. When you approach enemies in the battlefield, it turns into a one-on-one martial arts fighting contest much like Tekken or Virtua Fighter. Even if you see more than one enemy on the field, it's still just a one-on-one fight as you just have to beat them consecutively.
The fighting mechanics in my opinion were hard to master at the start of the game, but things get better the more you play it. Basically you can punch and kick as you have access to a lot of combos. You can also use magic abilities or Shi in order to initiate long ranged attacks. The game also allows you to dodge, block and parry enemy attacks. Learning all of these techniques are crucial because the enemies are pretty smart at dodging and blocking. It's basically martial arts mixed with supernatural abilities like in Naruto.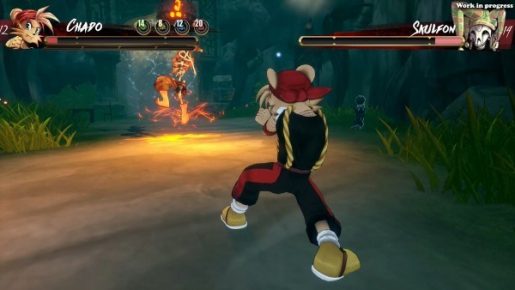 Another thing I like about the game is that you can change to any character you want to be. If Chado is losing health, you are free to tag him out for someone else and vice versa. You can swap to any character as many times as you want which is helpful since other characters are more effective than others against certain enemy types.
As enjoyable as this game is, it isn't without some minor flaws. The camera can get in the way during some battles if you are battling near a wall. I also hated the jumping physics. The characters would slide off platforms and they cannot jump very far either. It can also get repetitive sometimes leveling up because you need to be strong to prepare for the tougher enemies and bosses that lie ahead.
Verdict
Overall, Shiness: The Lightning Kingdom is a highly enjoyable action-RPG. The graphics are gorgeous and the story and characters are engaging. Not to mention the combat is innovative and feels satisfying. This game is definitely worth playing if you are a fan of Naruto games or something of that nature.
[Editor's Note: Shiness: The Lightning Kingdom was reviewed on the Xbox One platform. The game was provided to us by the publisher for review purposes.]
Shiness: The Lightning Kingdom Review

,