Nintendo's The Legend of Zelda: Breath of the Wild is one of the Nintendo Switch's premium launch title offerings, but there is another title worthy of your attention: Fast RMX. Developed by Shin'en Multimedia, Fast RMX is an enhanced port of 2015 Wii U exclusive – Fast Racing Neo. In its move from Wii U to Switch, Shin'en added new tracks, improved performance and visuals, and has balanced the game's difficulty to make for a challenging but rewarding futuristic racer. Fast RMX is a must-play for F-Zero fans, and a must-own for the Nintendo Switch. Do not miss out on this brilliant Switch launch title.
As is the theme of any futuristic racing title, you will be racing at high-speeds on tracks designed to test your maneuvering abilities to their utmost. By blending high speed racing with on course obstacles, multicolored boost pads, and challenging opponent AI, Fast RMX dares players to finish in first place. What is unique to Fast RMX are the blue and orange boost pads that are sparingly distributed during the course of a race. By matching your ship color to that of the boost pad, you will gain a temporary boost to propel you forward at a high speed. If you fail to swap your ship's color to that of the boost pad, your ship will lose some of its velocity.
Swapping between the two colors is done by tapping a button, but it can be tricky when numerous boost pads appear in quick succession and require you to swiftly swap for maximum boosting benefit. Mastering this technique will be advantageous when playing the higher difficulty modes, or when participating in online races against 7 other players. It's a simple game mechanic to get a hold of, and mastery of it will aid in your quest to finish in first place.
Fast RMX offers players will an array of game modes spanning both single-player and multiplayer. In terms of single-player content there are two core modes: Championship and Hero Mode. Championship tasks players to complete 10 cups – which contain three tracks each, as you aim to place in the top three positions. Placing in each cup will reward you with new cups, vehicles, and ultimately unlock higher difficulty championships.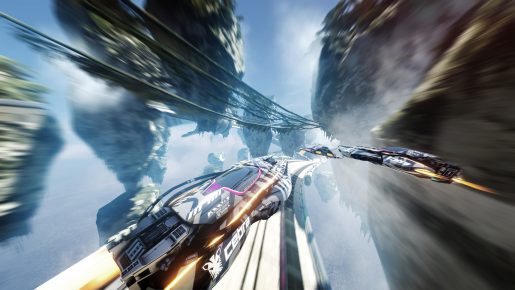 While Fast Racing NEO was unforgiving and relentless, Fast RMX is more balanced and more forgiving in terms of overall difficulty. On Subsonic – Fast RMX's slowest speed, the game will challenge you to race cleanly and to take advantage of the boost pads and boost orbs, but finishing in a top three position will be easily achievable. For those looking for a good test, the difficulty ramps up on the Supersonic and Hypersonic Championships as you race at higher speeds and against more challenging opponent AI.
The second single-player game option is a tribute to F-Zero, and this mode is Hero Mode. In Hero Mode, your boost gauge also serves as your ship's shield. If you boost too much, you leave your ship vulnerable to certain doom. You can refill your boost/shield meter by driving over boost pads and by collecting boost orbs, but you will need to find a good balance between when to boost and when not to. To make matters more difficult, the track is mirrored and you must place in first place while racing in Hero Mode. Finishing in first place is a gratifying accomplishment and completing all 30 tracks will require patience and skill.
Oddly missing from the single-player game modes is a Time-Attack mode. Shin'en has mentioned that they plan to patch this mode in sometime in the near future.
Fast RMX continues to offer fun and challenge via multiplayer. Offering a few ways to play with others, you will find yourself committing many hours to Fast RMX's entertaining multiplayer mode – because I sure have. The game offers splitscreen for up to four players, local play that allows you to connect multiple Switch devices for local 8-player multiplayer, and 8-player online racing.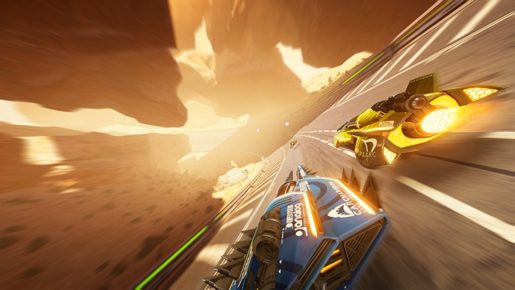 Splitscreen multiplayer provides you with an abundance of options – you can have CPU opponents, set the championship type (meaning the speed in which you'll race), whether you want to race full cups or just a solo track, and the amount of laps a race will last. These options are exclusive to splitscreen and not available in online or 8-player local communication play.
Be that as it may, online is likely where you will be spending most of your multiplayer time and for good reason: it is a whole lot of fun. Online is basic in features as it requires you to do just two things: select your vehicle and then vote for one of the six levels made available to you. While waiting in the online lobby with the other participants, a level will be selected and the race will be underway. Upon completion of an online race, you are then awarded points in accordance to the position in which you finished. Earning points is a good motivator as these points of reflected in your online profile in Fast RMX for challengers to see.
Fast RMX runs well online and is a blast to play. Nevertheless, we did experience a handful of instances where opposing racers were lagging and would unexpectedly appear well ahead of our position without having passed us on the track. These occurrences were few and far between, but it was worth mentioning.
Shin'en is planning to add a Friends Lobby to online play in the future. Until that time comes, you are limited to racing against random players.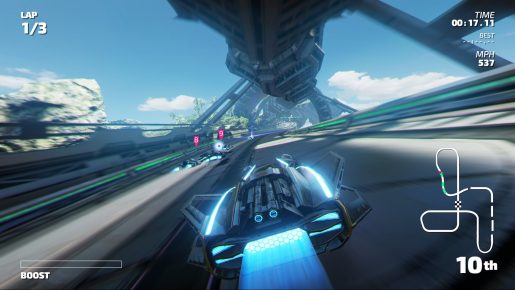 Even though you are racing at super-fast speeds, controlling your vehicle feels incredibly tight and fine-tuned. You will need to learn when to lean into a turn, but the game controls very well and feels like a considerable improvement over Fast Racing NEO.
Fast RMX is one of the Switch's most impressive launch titles. Showcasing beautiful graphics in both handheld and docked mode, the lush visuals will amaze all who gaze upon it. Running at a brisk 60 frames-per-second in both modes, Fast RMX is a technical marvel and one that will impress all players. There is no wrong way to play Fast RMX because it looks and runs amazing in handheld and docked mode.
Verdict: Shin'en has crafted one of the very best Switch launch titles with Fast RMX. The visuals, performance, multiplayer options, and tight controls make for one amazing experience. Fast RMX is a Switch launch title you shouldn't miss out on. Play it and you'll love it.
[Editor's Note: Fast RMX was reviewed on the Nintendo Switch. The game was provided to us by the publisher for review purposes.]
Fast RMX (Switch) Review

,