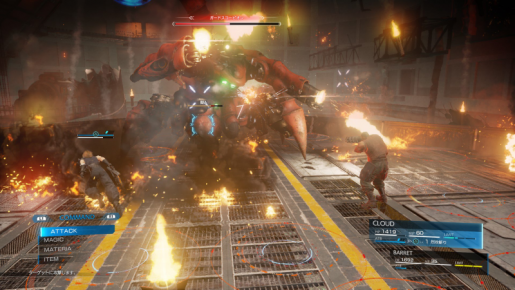 Square Enix has revealed two new screenshots from the highly anticipated Final Fantasy 7 Remake video game. It's shots of the first boss fight. There's also a solitary Kingdom Hearts 3 image there too.
Final Fantasy 7 Remake's director, Tetsuya Nomura, showcased the pair of new screenshots at this weekend's Magic Monaco 2017 event. You can see that Cloud and Barret are facing up against the Scorpion Guard.
Bear in mind, the screenshot may not reflect what the final game will look like. For example, the battle menu shows tabs for both Magic and Materia. In the original game, they were the same thing…
The below screenshot shows Cloud hiding behind cover from gunfire. This goes to show us that the game might have a similar control scheme to Final Fantasy XV.
Sadly, no new information was given about the game. Nomura was only allowed to show the screenshots. As an added bonus he also supplied a new screenshot for Kingdom Hearts 3 too. Click on the image gallery below for a closer look.
.
>