Nioh has been in development for over a decade by KOEI Tecmo. Since its first announcement back in 2005, the game has received many iterations until Team Ninja took the job and developed it in their own style and fashion. From the original JRPG concept and moving to a Dynasty Warriors concept, Nioh has now adopted a different gaming style more akin to the critically acclaimed Dark Souls series. Mixing the Souls series with fast action gameplay like Team Ninja's Ninja Gaiden, many were skeptical but the end-result is nothing but phenomenal as Nioh is one of the best games that mimics the Souls series' style.
Nioh's story is far different from From Software's Souls series. The game takes place in the fictional 1600 Sengoku period, when Japan was in midst of civil war and follows the story of William, a man from England who has been enlisted by Hattori Masanari, to defeat the Yokai that are flourishing in Japan. Using the expertise of William's blade, he will set on a journey to rid of the evil Demons in Japan and search for the Amrita, a type of magical stone abundant in Japan that is thought to favor Queen Elizabeth I's war against Spain. Well, his journey isn't that easy because the Yokais will always be there running after him.
At first glance, Nioh is similar to the gameplay of Ninja Gaiden – a fast action game that's very stylish and deadly when it comes to executing combos. But then after playing for about an hour, the word death will always comes into play as the frequency of dying will keep on happening. From the very beginning until the very last mission available, the game tends to get harder to the point that it's unbearable like the Souls series. Though, I didn't find it as hard as the Souls series because when played during co-op, it made things a lot easier. Similar to the Souls series, a player can summon someone online through the use of a certain item. When a player is summoned, the difficulty does not get boosted, thus if a player finds someone with OP gear, a very hard mission that could take about two hours to complete can now be finished in less than 30 minutes. Don't get me wrong – it's fun to play in co-op but for those looking for a challenge should definitely stick to playing alone.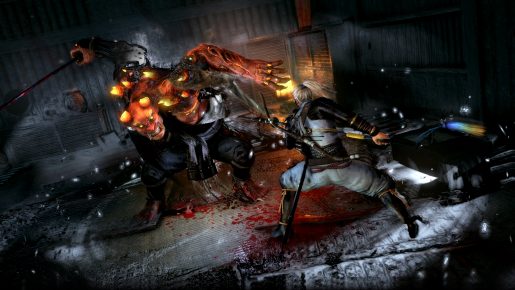 One of the best things about Nioh is the challenge and satisfaction that you'll get when taking down bosses or finishing a mission. Through the many missions available in the game, there are a lot of memorable boss fights that are very tough to take down. Each of them has their own pattern of attacks. If you somehow study their moves, and attack accordingly, the fight will be a breeze, though if your level isn't high enough, you can expect the boss (or other enemies) to kill you instantly. For players who have played Dark Souls games, the difficulty that they'll face in Nioh wouldn't be that severe as they're accustomed with the game's nature of dying a lot, though there are times you might want to throw your controller away when you can't simply beat the boss. Expect to find some areas to be easy and others to be super hard. Just try to be patient and keep trying. Trust me, you'll eventually do it.
Stamina plays a big factor when it comes to surviving in Nioh. Whenever William attacks, his stamina– known in the game as Ki — gets depleted over time and the amount of attacks that you can unleash entirely depends on it. When meeting a certain enemy with a gray aura surrounding them, getting close to it will create a dead zone where the stamina will not replenish. There's a way to get out of that dead zone mess and that's by quickly pressing the R1 button when a blue light starts illuminate on William after a series of attacks that you performed. When done successfully, the Ki will get a recovery boost called Ki Pulse. Oh, don't forget that every enemy that you'll encounter in the game has stamina, thus if you deplete them, they'll be immobilized for a few seconds, giving you a chance to strike them down. Pretty much, Ki is one of the things you should watch out for as you don't want to get in a situation where you suddenly run out and die just because the enemy attacks you first.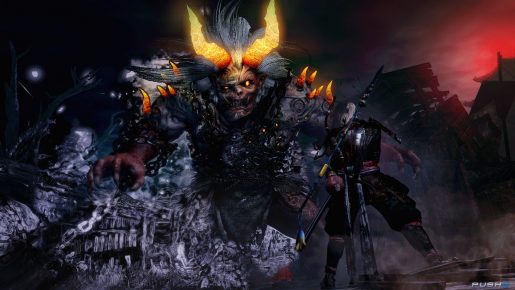 To make the combat more interesting, there are different stances that you can do while slashing your enemies: High, Mid and Low Stance. There are certain enemies in the game that can only be killed at a certain stance. Each of these stances have their own combos and depending on what skill points you use, you get to unlock more combos to utilize in each stance. Don't worry about messing up your skill points as you are free to reset them for a price.
Character progression in Nioh is straightforward and Team Ninja adapts them pretty much from the Souls series. Instead of Souls being dropped from the downed enemies that you slay, an essence called Amrita that is colored yellow will be the main currency that you use to level William up. Whenever you die in the game, the Amrita that you collect will vanish and the only time you can pick them up is find the place where you previously died. Weapons wise, you are free to use whichever you want in the beginning of the game and depending on your choice will give you an option to further expand William's combo and skills through the use of Skill points. When it comes to combos, William has a lot in his arsenal and the only way to unlock them is use the weapons as much as you can until you master it, giving you a point to spend on the skill tree of a certain weapon – which the Souls series lack. Not to mention you are given an opportunity to forge new weapons, enhance them, or change their skills, later on in the game.
Advancing through the story is through missions. If you are playing alone without anyone's help, there's a chance that Nioh could take 50 hours of your life, or even more. The game has many missions that you can do and thanks to its hard difficulty, each mission could take anywhere between 2 to 3 hours. Progressing through the missions are simple, explore the area, unlock doors, and reach the end to fight the boss. In each level, there are hidden items that you can find such as the green minions that can give you all sorts of different boosts such as an increase in Amrita and more. Upon conclusion of the mission, there will be a reward waiting. As for harder missions, there are points in time that Twilight Missions will open up and this is aimed for players who are level 75 and up. Just like in the Souls series, leveling up is tough as you spend more Amrita every time you level up and it just keeps increasing.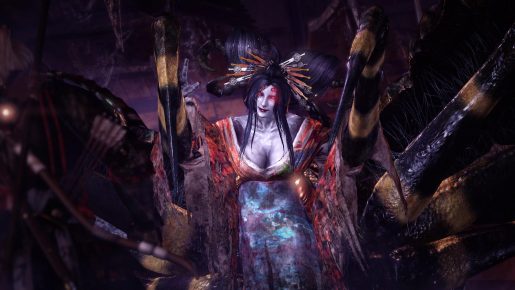 When it comes to visuals, Nioh has different settings that you can set to maximize its performance. For those who have a PS4 Pro, there's an Action Mode or Movie mode that you can set at any time. Through Action mode, the resolution is variable but based on my experience it gets locked in at 1080p but at 60 frames per second. Those who want a higher resolution, Movie Mode is your choice, though the frame rate is at 30 frames per second. My preference is the Action Mode as for a game this fast-paced, it's better to see it the action at 60 frames per second – but then you are free to choose. As for those who have the standard PS4, you can still enjoy it at 1080p regardless at either 60 or 30fps.
Verdict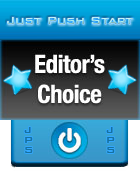 Not only is Nioh likely to be one of the best action games of 2017, it's a strong contender for Game of the Year. Sure, it's reminiscent of the popular Souls series, but it also manages to stand out in its own way. These elements, combine with the usual quality Team Ninja brings to the table, leaves a game that might be difficult, but is certainly worth the journey.
[Editor's Note: Nioh was reviewed on the PS4 Pro platform. The game was provided to us by the publisher for review purposes.]
Nioh Review

,