When Digimon first released they were a unique take on the digital pet fad. Like similar devices, Digimon required feeding, attention, clean up, but they also had the ability to change, based off various conditions and battle with other digimon trainers. This concept eventually led to anime/manga based off the digital world and those opened the door to video games. Years later the concept has seen different takes, but Digimon World: Next Order brings back the original concept. With hundreds of digimon, a world to explore and much more, is Digimon World: Next Order a must for fans or is it a massive step backwards?
Digimon World: Next Order takes a page from the anime/manga and starts with a human ending up in the digital world. Upon entering the world, you meet with your two companions and immediately run into a rogue Machinedramon. Despite this foe being quite difficult to defeat, a quick evolution results in its defeat at the cost of their "life." Following the fight you wake up in a mysterious town where the worlds situation is explained to you. Machinedramon is running ramped, the world is in danger and you're there to help. Your companions are also reborn, as two Digimon you select and your journey begins.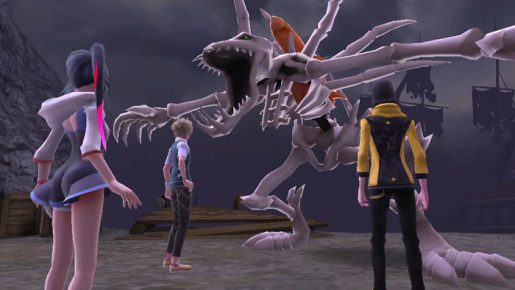 The nice thing about the story is that it contains much of the charm found in the original anime series. There are things to do, people to see and problems to solve. However, beyond fixing the problems of the world, Digimon World: Next Order is about raising your digimon and building the world around you.
At first glance Digimon World: Next Order is presented as a simple game. You have two digimon, they digivolve after so much time passes and you can train, feed, take them to the bathroom or have them rest to pass the time. However, once you start to pay attention, there is a lot more to this process than simply training, loving and taking care of your digital pet.
Every choice you make has an impact on how your digimon will develop. This is due to how digivolution works. Simply put, various factors, called key points, decided which path your digimon takes. These include basics like HP, MP, attack, along with others things like weight. To go down a certain path, you need to meet a set number of requirements and wait a specific amount of time. To achieve these points, you need to train/raise your digimon a certain way, a task that is difficult at first, but gets easier over time. So if you need 1,000 attack to get a certain digimon, you'll use the attack training until you hit that point.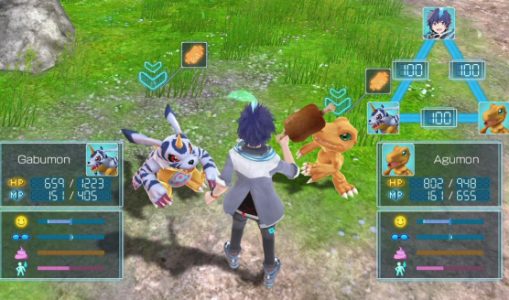 Without a guide this will take a while, since the conditions to unlock the next level are slowly revealed as you progress. You also have no control over which conditions are revealed, so if you want Greymon, the other paths might be revealed first. This slow burn also appears in the gameplay too.
Simply put, starting out is fairly rough. If you don't know what you're doing or haven't spent a lot of time training the right attributes, you will lose and you will lose to level 2 digimon on easy. This is because Digimon World: Next Order is built around the world getting easier/more accessible as you progress.
As you adventure through the digital world you'll find various digimon that offer quests. Finishing these quests will have that digimon join your town and that will aid you in one way or another. These include shops, increase food production, better training and more. This also means the first couple of hours are very tedious.
Unless you spend all your time talking to the right characters and training, you'll slowly explore the world around you, constantly lack the resources needed to progress and face health and other issues with your digimon. Sadly, the same also appears in the actual combat too.
At first the combat seems a little awkward. Not only do you have little to no control, as your Digimon move as they please, you'll only have access to a handful of commands. Over time you'll learn more and this gets easier, especially since you'll have access to better and more powerful attacks, but that takes time. Another thing to keep in mind is that, even though you can issue commands to your digimon, things like range, height and distance will determine whether or not the attack hits. Upon mastering, fights become more enjoyable and it starts to become fun.
Verdict
Digimon World: Next Order is a virtual pet simulator, first and foremost. Unless you want to spend hours raising a digimon, taking care of its needed, working towards the "perfect" evolution path and so forth, you'll hate this game. Especially since your digimon will die and the process will restart, with the new digimon gaining a small percent of the previous one's stats. This is also a game where combat, like everything else, takes a while to master and will result in many defeats before you're successful. So, unless you're more into the grinding, training and evolution aspects of Digimon, Digimon World: Next Order is simply not for you.
[Editor's Note: Digimon World: Next Order was reviewed on PS4 platform. The game was provided to us by the publisher for review purposes.]
Digimon World: Next Order Review

,