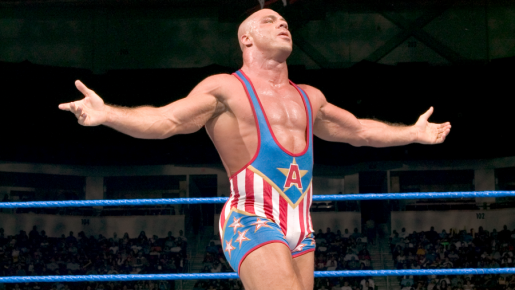 Wrestling fans will know that Kurt Angle was recently announced to be in the WWE Hall of Fame this year. This means he has a good chance of being in WWE 2K18.
In recent years, 2K Games and WWE has included many returning/debuting wrestlers as pre-order bonuses for their video games to increase sales.
In WWE 2K15, Sting was a pre-order bonus after coming to the WWE for the very first time. This was successful as Sting proved to be popular among fans and video gamers alike.
In WWE 2K16, they went a different route as Arnold Schwarzenegger's The Terminator was included as the pre-order bonus. The game was successful, although not many wrestling fans cared to play as Arnold Schwarzenegger.
2K Games and WWE went back to the drawing board and made Goldberg the pre-order bonus in WWE 2K17. This was huge as Goldberg has not wrestled in WWE since 2004.
This proved to be really successful because Goldberg actually returned to the WWE in real life and destroyed Brock Lesnar at the 2016 Survivor Series event. He will now be a part of the Royal Rumble and WrestleMania 33.
With Kurt Angle now back in the WWE's good books, there's a good chance that he could be the pre-order bonus for WWE 2K18. Kurt Angle is one of the most decorated wrestlers in WWE history.
The unique thing about Angle is that he's a real-life wrestler too. He won the Olympic Gold medal at Amateur Style wrestling back in 1996.
Sadly, Kurt Angle left WWE in 2006 and wasn't able to be featured in more recent WWE video games. He was in TNA for close to 10 years and his contract didn't allow him to feature in WWE's video games.
Now that's he's back, you can be sure that a lot of eager fans will want to play as him in WWE 2K18. The question still remains if this means he will be back in the ring in real life…
Anyway, do you want to play as Kurt Angle in WWE 2K18? Hopefully 2K Games makes it happen. After all, the tweet posted below shows that they are very interested in Angle.
So awesome! https://t.co/DnH91oU11E

— WWE 2K17 (@WWEgames) January 16, 2017