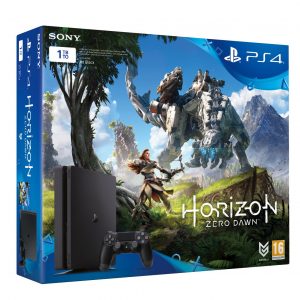 A cool looking PS4 console bundle has been announced for the European region that includes a copy of the excellent looking Horizon: Zero Dawn.
Sony announced this new Horizon: Zero Dawn bundle via the PlayStation Blog. You will get a 1TB PS4 console plus a physical copy of the game itself. It's worth mentioning you get the slim version of the console so it's not the bigger Pro version.
As standard, this bundle also includes one DUALSHOCK 4 controller plus all of the other necessities. One bonus though is that it also includes 3 months worth of PlayStation Plus. You can use PlayStation Plus in order to play online video games and more.
Sony did not announce a price for this bundle so you have to check for local listings. The bundle and the game itself will be released in the European/PAL regions on March 1st, 2017.