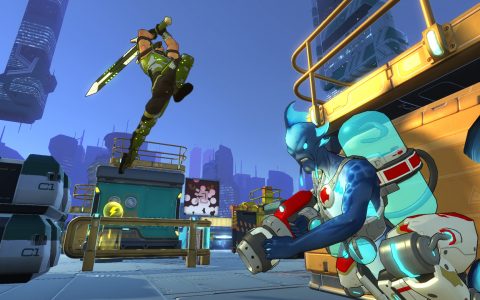 Trion Worlds is pleased to announce today that Atlas Reactor, a new simultaneous turn-based battle arena game, is now available direct from Trion and on Steam and Amazon for $29.99.
"Atlas Reactor is the culmination of ideas coming from a passionate group of gamers who wanted to create a smart, new kind of competitive game that we ourselves wanted to play," said Peter Ju, Executive Producer of Atlas Reactor. "We hope players around the world will find that the game combines some of the best elements of high-stakes gaming into a fast-paced, frenetic yet strategic competitive experience. I couldn't be more proud of our team!"
Atlas Reactor is a new kind of PvP battle arena that fuses simultaneous turns with tactical team combat. Quick, timed turns challenge players to rapidly assess a constantly changing battlefield, master and customize their Freelancers of choice, and coordinate with teammates to take down enemies.
In addition, Trion Worlds also announced today that Atlas Reactor will be the first ever game to feature fully integrated Discord voice chat. For the first time, players will be able to fully control their Discord client in-game for instant chat and communications among teammates in Atlas Reactor. "We're excited that Trion chose to work with Discord for Atlas Reactor's in game voice and hub for its player community," said Stanislav Vishnevskiy, Chief Technology Officer at Discord. "It's an amazing, competitive game and adding quality voice will make it even better."
Check back with us sometime this week for our review and coverage of the game.