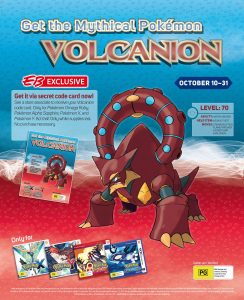 The Pokemon Company announced that starting today, Pokemon fans in the U.S. can get the mythical Volcanion through GameStop via a special code card.
Volcanion is a Mythical Pokémon that cannot be encountered through regular gameplay, and unlike any Pokémon discovered before it, this Pokémon is both Fire and Water type. It uses fire and water to create steam within its body, expelling explosive shock waves and boiling steam from the arms on its back. The power is said to be great enough to blow away an entire mountain, gouging out the earth and changing the shape of the land.

Trainers will need a Pokémon Omega Ruby, Pokémon Alpha Sapphire, Pokémon X or Pokémon Y game, as well as a system in the Nintendo 3DS family**. In addition to receiving the special code card for Volcanion at GameStop, Trainers can pre-order the upcoming Pokémon Sun and Pokémon Moon video games launching in North America on November 18 for the Nintendo 3DS family of systems, and receive a free commemorative poster at the retailer while supplies last.
The promotion is only valid starting October 10 through until October 31, 2016.