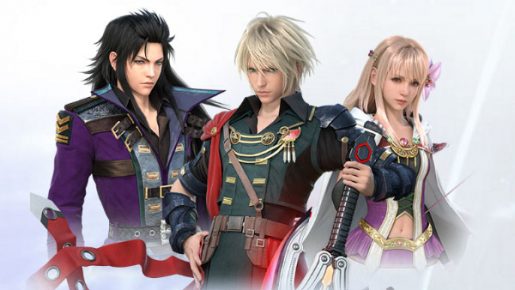 Now that Final Fantasy Brave Exvius has finally released globally on iOS and Android devices, we had the opportunity to ask questions coming from fans to the producers; Kei Hirono & Hiroki Fujimoto.
We asked questions like if Cloud from Final Fantasy VII or Squall from Final Fantasy VIII will be in the game. Curious? Here is the the full interview!
Since we've seen a lot of FF characters from other games that have appeared in Brave Exvius, will we eventually see characters from FF7 like Cloud Strife or FF8 like Squall Leonhart?
In regards to that question, we cannot answer this at this point in time. Characters from FFI~VI, IX, XI and FFXII will make an appearance. So please play the game and see what characters are available.

Since PvP gameplay is popular in games like Brave Frontier, is there a chance we'll see it in Brave Exvius
The Japanese version of "Final Fantasy Brave Exvius" already has the aforementioned PvP content. We will be releasing the PvP content for the global version in the near future.

There's been a lot of hype that surrounding FFXV's release this September, can we expect some sort of collaboration content? How about Kingdom Hearts?
Regarding the collaboration, we cannot answer questions that have not been announced. We will make an announcement in the future if the collaboration takes place. Please look forward to it.

When exactly will Brave Exvius be released worldwide?
We will make an announcement soon. Please wait for the official announcement.

Raid Battle seems to be the most requested content for Brave Exvius, any chance of it becoming available in the near future? If so, can you shed a little bit of information about it?
We are considering Raid Battles. We cannot answer when and features that will be included in the Raid Battle.

Units like Master Vivi or Shantoto only goes up to four star. Can we expect some units like the one I mentioned get five or six star evolutions?
We cannot answer regarding individual characters.

Many have noticed that sprites on characters from four-star to five-star seem to get very little changes in terms of design. Will that change as time goes by?
The image of a character changes corresponding to the number of stars they have. The more stars they have, the more changes. Collect various characters and compare them.

Will the Global version of Brave Exvius see exclusive units? How often can we expect new units to appear in the summoning gate? Any rates up whenever a new unit appears in the summoning game?
It is highly likely that we will include a Global limited unit and a future unit exclusive for global. Stay tuned for a formal announcement regarding that.

In Alim's Brave Frontier, the game trials where players defeat a certain boss and get rewards in the end, will Alim implement something similar to it? I'm sure many gamers who will play Brave Exvius will want to fight popular bosses in the FF universe.
Yes, there will be game trials where players defeat a certain boss and get rewards in the end.

Five minute recovery time for the energy to restore seems kind of long, any chance it will decrease to 3 minutes at least?
Right now, we do not have any plans for that.

Many FF fans loved the method on how to get Golem in Brave Exvius. Can we expect more content like that where we need to do side-quests in order to unlock Espers?
There will be more Esper-unlocking quests in the near future.

In the FF universe, there are games in the series where players have to hunt for legendary weapons. Will we eventually see some sort of the same content in Brave Exvius?
There will be future events where you can gain such weapons and/or armor.

When will the use of Chocobos going to be implemented in the game?
We cannot give you an answer right now.

Will a Guild System be implemented at some point?
There are different ways and forms for a guild system. Though at this moment, we cannot give you a specific answer.

Thank you for the time in answering our questions! Are there any final message you would like to say to your fans?
FFBE is a truly unique global Final Fantasy smartphone game compared to other mobile-based FF titles. It features an original story where 2 knights and a girl go on an epic adventure to search for a Crystal. We used the long-spanning series' best qualities and gameplay design with the latest CG graphics to make the title you see today!Please look forward to the game and its future content updates, and do spend some time with it. We greatly appreciate your support. Thank you all!