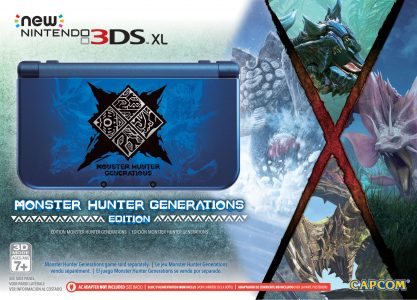 Capcom is pleased to announce today that Monster Hunter Generations for the Nintendo 3DS will launch in North America this July 15.
Similar to what Capcom did with Monster Hunter 4, the upcoming Monster Hunter game will receive a limited edition Blue New 3DS XL featuring the artwork of the game's "Fated Four," an elite group of powerful monsters. It is currently planned to be released in both North America and Europe. Sadly, the actual game will not be bundled this time around.
Monster Hunter Generations allows players to take on tons of colossal creatures in more than 20 different hunting locations, either solo or via local and online co-op play with up to three other hunters. By collecting items from their hunts and adventures, players can craft more powerful weapons and armor, opening up paths to even more dangerous quests. With the debut of new gameplay mechanics that include four different Hunting Styles and powerful abilities known as Hunter Arts to equip, Monster Hunter Generations is the most customizable Monster Hunter experience yet!
As always, check back with us near the release date for our review of the game.