Several months following the launch of Fallout 4, Bethesda has finally released its first DLC for the game called Automatron. While it's not a fully-fledged expansion similar to past Fallout games like Point Lookout in Fallout 3, the DLC does offer some new things that will pretty much prepare your character for the real expansion later this year like building your own customized robot. If you completely exhausted all of the available content in Fallout 4, there's this Automatron DLC but don't get your hopes up that this DLC will pretty much satisfy your meaty Fallout 4 cravings.
Upon purchasing the DLC, you will automatically get the quest as soon as you start playing your save file. Simply listen to your radio for a distress signal and the location of where you need to go to will appear. As soon as you arrive on the scene, you will encounter a mob of angry robots. Defeat them and you will get to speak to a friendly assaultron named Ada. Talking to her will give you the main gist of what the Automatron DLC is all about. To give you a rundown, you are to hunt the creator of the robots that have gone rogue named The Mechanist.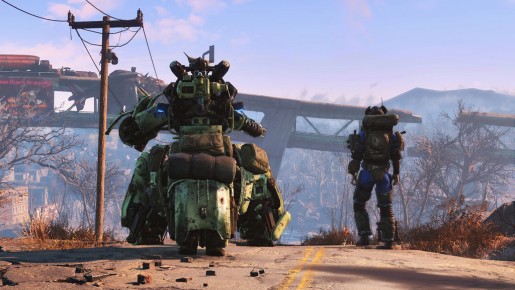 To help you out with the hunt of The Mechanist, Ada will lend you a hand and give you the option to customize or create your own robot to join you. One of the new features that I really like about the DLC is that you can build your own robot that can aid you in your journey. Of course, creating your own a robot that you already have will give you more raw power when traversing through the Commonwealth. Just as you would upgrade your Power Suit or Weapon, parts are needed to get your own robot the best as it can be. Luckily with the DLC, every robot that you now meet will drop parts that you can use in the Robot Workbench that gets unlocked after meeting Ada. From my playthrough, my robot has become the tanker and I find it pretty useful, especially the Automatron DLC has some enemies that will annoy you along the way
When it comes to the length of the DLC, it can be finished in roughly three hours. Sadly, the DLC all takes place in two major indoor facilities. While there are only two, I find them to be quite big and can take you a while in finishing them. Those who are expecting that this DLC will give you a quite massive location, don't count on it. The two areas that you'll get to explore internally are Fort Hagen Satellite Array where a new faction called Rust Devil reside and the Robco Atomic facility where the Machanist lair is. In these two areas, you'll find a lot of scraps that you can use for your robot, so its best to loot those dead robots as you may find that particular part to make Ada or your own customized robot powerful.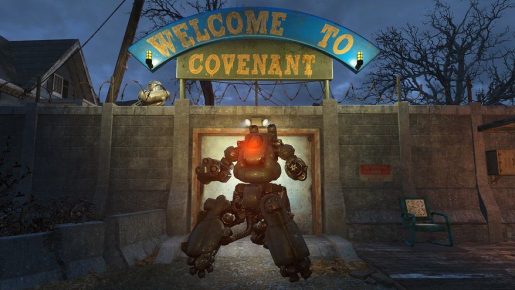 For those hoping to find some new rare weapons, there are a few available that you can find here. In the three bosses in this DLC, each of them drops a rare loot that can be very beneficial to you. One of them that I find really useful is the Tesla Gun that spits out some sort of lightning, and a missile launcher that gets pretty handy for the final boss fight. When it comes to armor, there's a Tesla inspired Power Armor Suit. It's not that quite durable compared to T60 and up, but you can always upgrade the parts and the looks of it is somewhat unique.
As far as glitches and bugs, I've encountered a few while playing the DLC. Some of them that I encountered is when Ada gets stuck to the wall and can't move to follow me. It gets pretty annoying when Ada gets stuck as she can't simply help you out. The remedy that I have to resort into is to simply reload the game. Other times, when you ask Ada to go from point A to point B, her image will stutter and she'll disappear. Performance wise, there are times that the frame rate would simply slow down dramatically making you think that it's about to crash – yea, it's pretty scary.
Verdict
Fallout: Automatron is a decent DLC at the $9.99 price point. The content it has is somewhat meaty as one of its main feature is the ability to create and customize your own robot. Storywise, it's probably the weakest one told in Commonwealth and those who are looking for a lengthy and real Fallout adventure might be better off waiting for the Far Habor that supposed to introduce a new area. If you don't mind that new weapons and have a new robot companion that will help you in your future adventures in Commonwealth, definitely get it, otherwise hold off till Far Harbor.
Fallout 4: Automatron Review

,