Tom Clancy's Rainbow Six Siege is the brand new first-person shooter video game developed by Ubisoft Montreal. Rising from the ashes of the cancelled Rainbow 6: Patriots, Siege has been developed solely for next generation consoles and PC to offer a unique multiplayer experience. The game aims at gamers who want a change of pace from the hectic run-and-gun gameplay of the Call of Duty franchise; and for those looking for something more realistic.
From launch, Rainbow Six Siege offers gamers 10 maps to play on, learn, and plan how to perfectly execute missions on. Due to a lack of a campaign, gamers will find themselves mostly playing the objective based 5 on 5 multiplayer round game mode. Teams take turns to attack and defend an objective which is located somewhere within the map. Before the round officially starts, defenders are given time to prepare traps, door barricades, explosives and get into position to repel the attacking force. In this time, the attackers send drones in an attempt to discover the location of the objective, defending operators and the placement of the traps.
As a defender, this planning stage is where you will find out how the round will go. If each player runs off instantly doing their own thing, you're going to be in for a bad round. While not punishing solo play, the game tends to reward teams that work together; as weight of numbers working cooperatively often prevails. Nevertheless even the perfect plan can always fall apart when set into motion: often as a result of failing to anticipate the enemy team's plan and having to change tactics on the fly.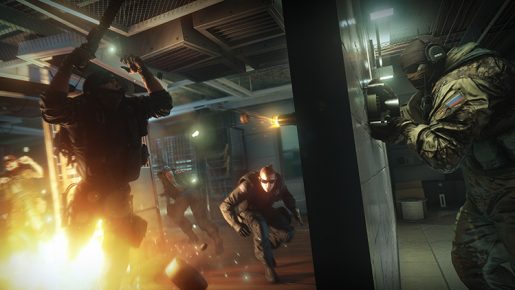 The tactical nature of the planning stage is what sets Rainbow Six Siege apart from generic FPS titles but when it comes to executing the plan, it should be the gunplay's time to shine. Despite the feeling of real time execution of carefully made plans, the realistic nature feels like it has been partially left in the planning stage. While getting hit with a flashbang will leave the player blinded for multiple seconds, recoil is surprisingly low for a number of weapons including the high powered shotguns. This breaks the immersion of the game and gives the title a casual flavor that didn't fit in with the tactical planning and operator theme the game bills itself as.
There are a number of game elements that players will have to learn to master being a Rainbow operator. Take time in your first few rounds to test gunfire and explosives on different surfaces and wall types to see the sometimes spectacular results. The destructive capabilities of surfaces is one of the biggest barriers to overcome; as it can often turns a well barricaded position into hallway. There is nothing worse than being backed into a wall only to find it explode behind you.
One quick way to determine the structural integrity of walls around you is by using the detonator packs, by holding down the middle mouse button. This will enable you to see the ready to place light change from red to green on surfaces which can be breached, with a similar charge or other explosives.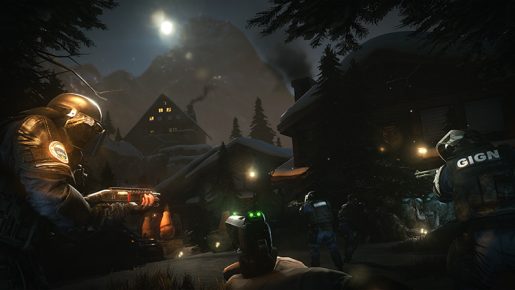 Thankfully, the game doesn't offer the steep learning curve you may expect from a tactical shooter. There are 20 operator abilities but starting as a recruit you don't get one straight away. This may sound like a disadvantage but when learning the best use of traps, the map design and its destructibility it actually lessens the load of things you have to take in all at once. This does mean that the game gets more complex when these are unlocked but understanding of the maps and surfaces develops relatively quickly by just jumping straight into rounds. The planning phase for both teams is generally intuitive and if anything isn't obvious to you there is always a tutorial to teach basic features.
Pitting player up against 22 enemies, Terrorist Hunt makes a return in Rainbow Six Siege. Playable both cooperatively online and as a Lone Wolf, the objective has remained simple; remove all hostiles present. There are three difficulty modes available, however until you have unlocked a few operator abilities and learnt the extent of the destruction of the game world I would strongly advise not going for the harder difficulties, especially on Lone Wolf. Unfortunately, Terrorist Hunt can get infuriating as it is incredibly easy to be taken down by suicide bombers who rush your position. When stealthily creeping around you can hear them coming but in the middle of a firefight unless you see them coming it is normally too late.
From just a quick glance around, the pristine maps you may feel that the world is a fairly drab place, which offers little in the way of standout visual features. The locations feel like they could be anywhere with little in the way of unique elements to make them stand out. This is exactly what makes Rainbow Six Siege a believable game. It keeps the stunning artistic flare to a minimum to create locations that could possibly be just down the road or any other building.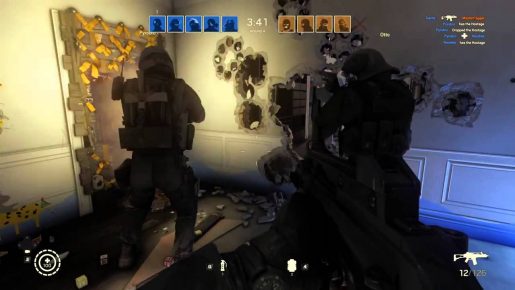 Even though the levels start out sterile when the action unfolds with windows shattering, bullets tearing through cover and full walls being demolished they start to show the complex map design and high level of polish. It is this complexity that will allow the maps to survive more playthroughs than on other titles such as Payday 2. Maps do not stay static for long: with players placing traps and barricades in differing locations and different walls caving in from explosives it can at times seem like completely different levels from one round to the next.
This concept of playing on one level while being completely different is only amplified by the number of entry routes that each map has. You can simply head for the closest door or wall and attempt to breach there, or rappel up the side of a building to either gain entry via a skylight or an upstairs window. Its entry which can provide the quickest action. When inside, you will often want to sneak along corridors, tactically clearing the area. Conversely when it comes to breaching you must quickly react to what is on the other side of the door, window or collapsed wall.
The decision to shy away from singleplayer towards cooperative can be seen as copying the FPS genre but this is where the game could have made a defiant stand. Most time will be spent on the online multiplayer and for those who looked to play the Rainbow 6 series as a singleplayer experience will felt let down. Rainbow Six Siege does offer a solid gameplay experience and the planning stages and asymmetrical team nature does provide decent entertainment. Destruction is the star of the show and for the variety of gameplay and quality of the explosive nature it creates Rainbow Six Siege is well worth playing.
[Editor's Note: Rainbow Six Siege was reviewed on PC. The game was provided to us by the publisher for review purposes.]
Tom Clancy's Rainbow Six Siege Review

,