Telltale's latest episode of Game of Thrones: Sons of Winter takes the slow momentum building up over the previous three episodes and finally begins its downhill descent into madness. Can the scattered Forresters keep their family from fading into oblivion, or will the once-great House struggle to make it through the winter?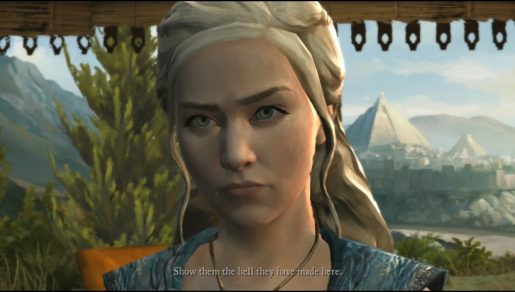 Moreso than previous entries in Telltale's Game of Thrones series, the events of Episode 4 fall more in line with notable events of the show. Asher Forrester, separated from his House by the Great Sea, finds himself pledging temporary allegiance to the Queen of Dragons herself, Daenarys in order to secure a small army of sellswords and transportation back to Westeros. In order to win her allegiance, he offers to take part in the liberation of Yunkai along with his less-than-enthusiastic companion Beshka. As with most of the Asher sequences, his is wrought with combat and QTE sequences moreso than any of the other Forrester children, save for Gared Tuttle.
Gared Tuttle finds himself being court marshaled over the events of the previous episode, The Sword in the Darkness. Much of Castle Black has disdain for the ex-squire and don't hold him in the highest of regards. His task and primary focus has been (and still is) to find the North Grove and being held prisoner won't stop him. Despite his lower status amongst the Night's Watch, he still has a few that he can call allies. Cotter and Finn remain his closest allies and friends in this episode, risking everything to rescue him and take him north of the Wall, into Wildling territory.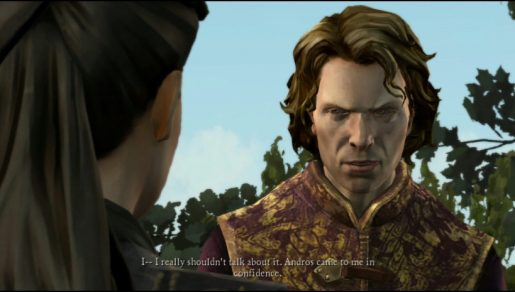 Mira Forrester continues her work off in King's Landing despite having a small falling out with Lady Margaery. Her focus this episode is working towards establishing House Forrester as the premiere supplier of ironwood for the kingdom, a task currently spearheaded by the Lannisters and Whitehills. Falling in line with events of the main series, Mira's plotline intertwines with Tommen's coronation and wedding, giving her the opportunity to meet with some powerful individuals that could shift the ironwood trade in her houses's favor. Mira feels as though she gets the least screen time this episode, but the events she establishes feel like a driving force for the last two episodes to follow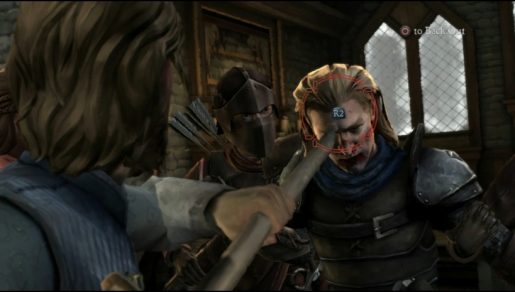 The star of this month's episode of Game of Thrones certainly has to be Rodrik Forrester. As a man of action, his first order of business is taking his great hall back from the Whitehills, Gryff in particular. After Gryff took over Ironrath and stationed his soldiers, his treatment of the Forresters had been less than amiable. During my playthrough, Rodrik took back his house by force, kidnapping Gryff and throwing him into the dungeon along with all of his soldiers. Lady Elissa Forrester drafts the idea of killing every raven, lest word gets out back to House Whitehill.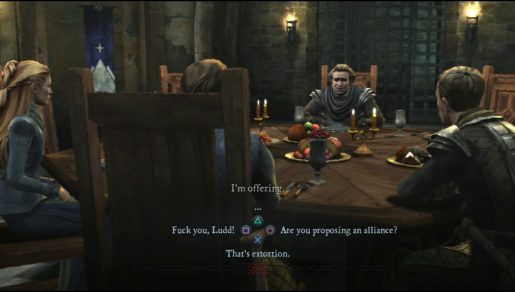 With Ryon Forrester held as a captive at the mercy of House Whitehill during my session, I found myself venturing to the Whitehill keep to trade for Ryon's safety: one son for another. Lord Whitehill, a man of short temper and even lower fortitude, engaged Rodrik and the other Forresters in a mentally-taxing situation. Bargaining for the return of hostage while twenty archers are trained on you is never a simple affair. My first run through had me come off as harassing and taunting Lord Whitehill to act, an act that would quickly prove to be fatal. A Mexican standoff quickly devolved into bloodshed as every person present was taken down in the ensuing flurry of arrows. Needless to say, my second attempt was more diplomatic and successful in establishing a trade between Ryon and Gryff that is yet to take place in the forthcoming episode.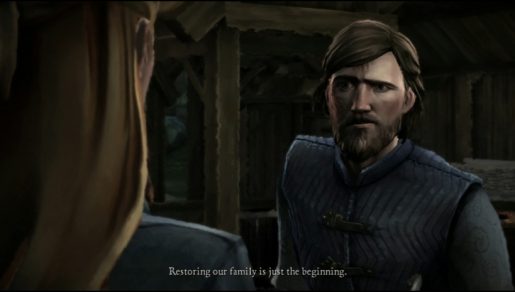 As a whole, I felt that Episode Four: Sons of Winter did a great job of establishing momentum in the story. Mira's political intrigue and subterfuge sections are starting to trickle forth as the Forresters move to gain a better foothold in the ironwood trade. With the liberation of Yunkai, Asher is one step closer to getting that boat and army he's been needing in order to get back home to Westeros and reunite with his family. No longer simply a crippled lord, Rodrik is starting to do well as his confidence returns and he steadies himself for an inevitable clash with the Whitehills over the ironwood trade and the safety of his family.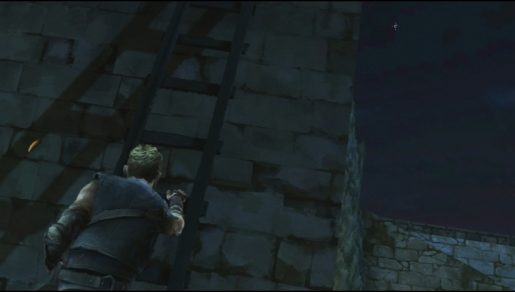 Sons of Winter isn't without its imperfections, however. Many of the same graphical and audio bugs are present from the first episode all the way into the fourth. While not enough to hinder gameplay, they can be distracting and take away from the overall experience. What DID hinder, however, was Asher's inability to climb ladders during his stealthy attack on Yunkai. On two concurrent attempts, Asher would mount a ladder and make no attempt to climb up or down. At first, I thought my controller might have turned off but I was able to move the camera in a limited fashion. On a third load of my save, I was finally able to climb that one particular ladder and made it through the rest of the episode without any major hiccups.
The fourth episode of Telltale's Game of Thrones starts and ends strong, keeping me interested for the events that I can tell are coming up quickly. Sons of Winter feels as one of the strongest episodes in the season next to the establishing first episode. If Telltale can keep this momentum going, Game of Thrones could be one of their most enjoyable (and bloody) series to date.
[Editor's Note: Telltale's Game of Thrones: Episode Four: Sons of Winter was reviewed on the PlayStation 4. Review code was provided to us by the publisher.]
Telltale's Game of Thrones Episode Four: Sons of Winter (PS4) Review

,