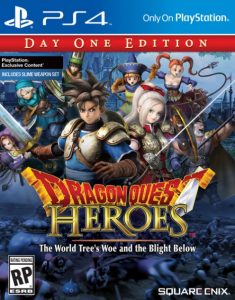 With Dragon Quest Heroes coming to North America later this year for the PS4, Square Enix revealed at its online store that there will be a Day One Edition.
Scheduled for release this October 13, gamers who will purchase the game on Day One will receive exclusive items like the Slim Weapon Set. For now, the Day One Edition is only available via Square Enix's Online Store. Let's see if stores like GameStop will carry this Day One Edition, which is very likely to happen.
Here's a rundown of Dragon Quest Heroes:
Dragon Quest, one of the most iconic RPG series from Japan, will arrive in the form of a full-scale action RPG for the first time in the history of the franchise.

In Dragon Quest Heroes, the protagonists must rise up against insurmountable odds, challenging swarms of enemies and conquering gigantic monsters in an exhilarating action game. Filled with characters and monsters designed by world-renowned artist Akira Toriyama, Dragon Quest Heroes is brought to the PlayStation 4 in beautiful HD graphics.

Both Yuji Horii, the general director and creator of Dragon Quest, and Koichi Sugiyama, the composer closely tied to the series since its first installment and creator of countless musical masterpieces instilled in the memory of series fans, are closely involved in bringing this title to life.

Furthermore, ω-Force (Omega Force) from Koei Tecmo Games, the team that has created numerous popular action game series, is taking part in its development.

Dragon Quest Heroes is a title that not only DRAGON QUEST fans will enjoy but will appeal to gamers of all interests.