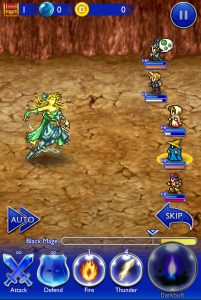 Final Fantasy Record Keeper, the latest mobile game offering from Square Enix and DeNA, offers a cross between traditional turn based combat and the usual gashapon-style lottery pulls seen in other mobile games. In each battle, item drops are randomly predetermined, whether they're orbs for upgrading equipment and abilities or high ranking gear dropped by the bosses. With these basic steps, you'll be able to get the gear you need to take down Shinra Tower before the event ends this Saturday.
Aside from the gear that comes from the Relic Draw machines, equipment drops from level bosses are some of the best upgrades you can get. A few to especially note are Whips (FFIV's Fabul Castle), Black Cowl (FFV's Ship Graveyard), and Protect Vest (FFIV's Antlion's Den). Each of these drops come from the boss, so this final phase is what you want to reroll if you end up receiving an orb (or no reward) after defeating the boss.
1, Start up a battle during the boss level (this can be anywhere from the start of the battle versus the minions or right up until the boss dies) and turn on Airplane Mode for your phone
2, Force Close Final Fantasy Record Keeper after defeating the boss. You should receive an error that the game can not connect (this is when you close the app)
3, Re-enable cellular data (and WiFi) before opening Final Fantasy Record Keeper once more
4, If you did not receive the drop you want, select NO if the game asks you if you would like to continue from where you left off. This will put you back at the chapter select screen and gives you the opportunity to try the boss once again although you do have to pay the stamina cost again.
5, Repeat steps 1-4 until you receive a treasure chest drop after defeating the boss. Once this happens, select YES upon restarting Final Fantasy Record Keeper and proceed through the battle as normal.
I've tested this method personally and have gotten enough gear to give Rydia a Black Cowl++ and Whip++, giving her a considerable edge for taking out bosses with a powered up Thundara spell.