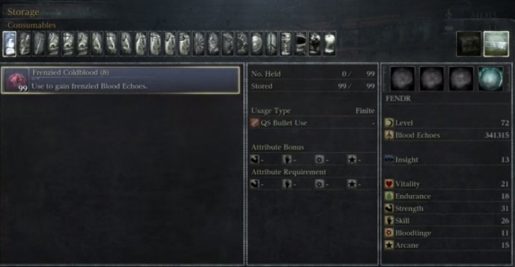 Bloodborne hasn't even seen its one week anniversary since release and already players have discovered a method to reach unlimited blood echoes. Thanks to YouTube user gametastik, a fairly straight forward method has come out into the open.
The steps to get infinite blood echoes in Bloodborne will require a little bit of planning. For starters, you'll need to start a second character and advance them far enough to have access to the storage chest in the Hunter's Dream. Secondly, both characters will need to have a fully empty storage chest to get this glitch to work. The rest of the steps are as follows below. The gist of the glitch involves having two stackable items in your inventory, and by adding pebbles to the storage chest, those pebbles get transformed into whatever stackable item is in your storage chest. With a little patience, you'll gather up unlimited blood echoes in no time!
Step 1: Create a 2nd character by starting a new game
Step 2: With the 2nd character go to the workshop in Hunter's Dream and put a Pebble into the storage
Step 3: Press the Options-Button and Exit the game (you will now come back to the title screen)
Step 4: Switch back to your main character (select "Load Game" in the title screen)
Step 5: Clear out the storage of your main character (in Hunter's Dream, you can sell items at the merchant if you cannot carry any more of them)
Step 6: Put the item you want to duplicate into your storage (1 unit is enough). If you want to get unlimited Blood Echoes you put in Coldblood. If you want to dupe a certain upgrade material you put in that material.
Step 7: Now put in as many Pebbles as you want and it will convert them into the other item. Buy more Pebbles at the merchant and keep putting them into the storage. Now a worthless Pebble becomes an item of your choice.
Step 8: Repeat Step #7 as often as you want. When you want to dupe another item you repeat Steps #2-7.
Please note the following disclaimer in case you can't get this to work. A video tutorial for the Bloodborne item duplication glitch is also included below.
IF IT STOPS WORKING ALL YOU HAVE TO DO IS GO BACK TO YOUR SECOND CHARACTER TAKE OUT THE PEBBLE AND PUT IT BACK INTO STORAGE THEN GO BACK TO YOUR MAIN CHARACTER AND IT SHOULD WORK!