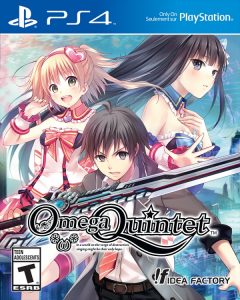 Idea Factory International released the US box art for the highly anticipated JRPG for the PlayStation 4, Omega Quintet.
Omega Quintet is the first JRPG to hit North America for the PlayStation 4 this year. To be exact, it will be released sometime during Spring.
In a world overrun by a mysterious, malevolent darkness, the only hope for humanity rests in the music of singing idols known as "Verse Maidens". Wielding weapons of sound, they are tasked with fighting back evil and restoring the world, but it won't be easy! These five plucky girls – with the help of their manager Takt – will have to give the performance of a lifetime to stop this darkness from claiming the last of humanity. Will they be able to band together and blow this evil away, or will they fight only to discover that the darkness has been lurking within them the whole time…?
In addition to the box art, Idea Factory International also released the English opening movie of the game.