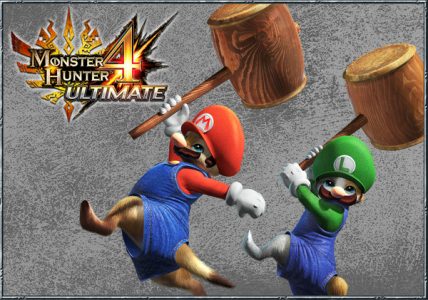 With Monster Hunter 4 Ultimate now available nationwide in North America, Capcom has released a super cool item that you can use for your cat in-game.
Aside from the free Starter Pack DLC that they released today, Capcom also released an outfit that your cat can wear. For a limited time, you can download the free Gift on the DLC section. In order to download it, make sure that your game is patched. If you haven't, simply download the patch in the Nintendo eShop.
Here's a handy-dandy guide on how to unlock the Mario and Luigi costumes for your super-cool cat:
HOW TO GET THE SUPER MARIO BROS. COLLABORATION GEAR

Now that you've downloaded all your items, it's time to get that special little bonus we've packed in for you: the Super Mario Bros. Palico gear.

CAUTION:

With the 6x Super Mushrooms, you can only make 1 set of Palico gear, so choose carefully between either Mario or Luigi. Later on, we will release the DLC quest that will allow you to make the other set of armor.

REQUIREMENTS:

– Complete the first two quests from the Caravaneer – the Capital "C" Challenges

– Talk to your Ace Palico and make sure it is set to "Deploy" on Palico Board

– Buy 3 x Large Barrel from the Val Habar market (630z)

– 1300 z (Head 400z, Body 400z, Weapon 500z)

– 6x Super Mushrooms (comes with the Starter Pack)

STEPS:

1) Download the Starter Pack (see above)

2) Talk to the Smithy (The Man)

3) Select "Forge Palico Gear"

4) Select "Weapon", then "Invincible Hammer"

5) Select "Head", then "Mario Cap" or "Luigi Cap"

6) Select "Chest", then "Mario overalls" or "Luigi overalls"

Okay, now you have everything you need. To equip all this gear, head to Your House, walk over to the Palico Board and select "Manage Equipment".