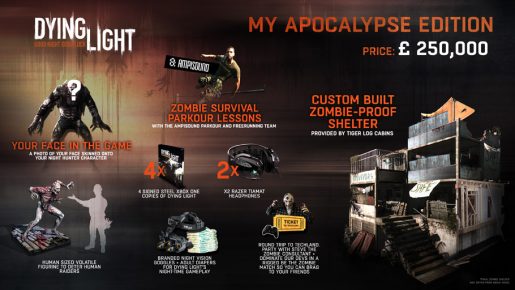 Available to only one customer, Techland's upcoming European release of Dying Light will be accompanied by a suitably titled My Apocalypse special edition.
Not a small ticket by any means, the Dying Light My Apocalypse edition will include quite a bit of exclusive content for those willing to spend the dosh. A cool £250,000 will get you this special edition, platforms unlisted but presumably the owner gets their choice between PC/PS4/XB1. If you're worried about buying a game that costs as much as a new flat, don't worry; that's included with the game! Below is a list of what a quarter million pounds can get you in addition to bragging rights.
· Custom built Dying Light Zombie Home by Tiger Log Cabins
· Zombie avoidance parkour lessons with Ampisound, the team behind the internet smash Dying Light Parkour POV video
· Be The Zombie (rigged in your favor) match with devs where you win so you can brag to your friends how "leet" you are
· Trip to Techland in Wroclaw, Poland, to meet the dev team and party with Steve the Zombie Consultant
· Your face skinned onto your Night Hunter character model
· Dying Light branded night vision goggles + adult diapers for the night portions of the game
· x4 signed Steelbox editions of Dying Light
· x2 Top of the line Razer Tiamat headphones
· Human sized Volatile figurine to use as a deterrent on human raiders
The Dying Light My Apocalypse Edition will be available exclusively through Game.co.uk here, with an email verification process just to weed out the not worthy. Dying Light will launch in Europe on February 27th.