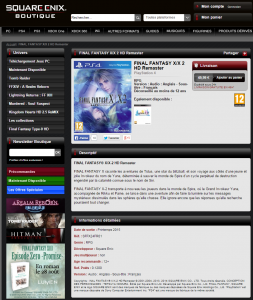 Earlier today, a PlayStation 4 posting was listed for a release of Final Fantasy X/X-2 HD Remaster on Square-Enix's webstore. Rather than just being available on PlayStation 3 and Vita, this listing placed the game as a possible candidate for PS4 release.
Priced at 49,99€, the possible PlayStation 4 release would have been priced 5€ higher than its PlayStation 3 contemporary. With mock box art having already been created for Final Fantasy X/X-2 HD Remaster (albeit the only change was the console header on top), this seems like a product listing that had gone up sooner than an official announcement.
If the PlayStation 4 listing of Final Fantasy X/X-2 HD Remaster rings true, this means the PlayStation 4 could be seeing a number of Final Fantasy titles released next year. Final Fantasy Type-Zero (and Final Fantasy XV demo) and Final Fantasy VII are already confirmed for a 2015 release alongside the first expansion for Final Fantasy XIV.