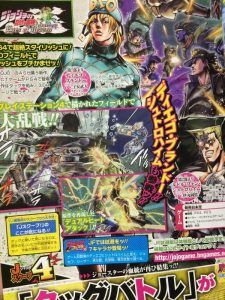 Bandai Namco's followup to 2012's fighter Jojo's Bizarre Adventure: All Star Battle will be seeing new life on PlayStation 3 and PlayStation 4. Dubbed Eyes of Heaven, the updated brawler will feature new characters among other enhancements.
New to the Jojo's Bizarre Adventure: Eyes of Heaven roster are Rudol von Stroheim from Battle Tendency and Diego Brando from Steel Ball Run. New characters are sure to be announced in the following months, but the Famitsu preview only mentions these two additions to the roster. If you happen to be in attendance at Jump Festa 2015, a playable build will be featured.
Jojo's Bizarre Adventure: Eyes of Heaven has not been announced for a release anywhere outside of Japan, but we will be sure to keep you posted on any new revelations from Bandai Namco in the coming months!
[Image scan courtesy of Ruliweb.]