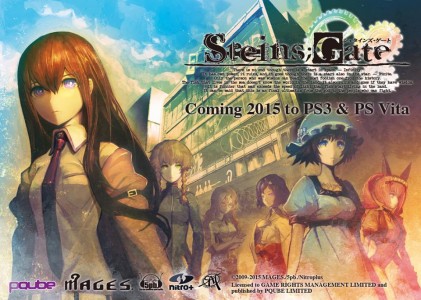 5pb Games'/Nitroplus' Science Adventure title Steins;Gate will be available sometime next year for both PlayStation 3 and PlayStation Vita systems.
Steins;Gate, an interactive visual novel with "non-linear plot lines" was first released in Japan back in 2009 for the Xbox 360 and other consoles in Japan. Here in the US, we never received any version of the game until Jast USA published a PC version on March 31, 2014 exclusively for PC. A new team, called PQube, will publish both the PlayStation 3 and PlayStation Vita releases sometime in 2015.
The PC release was very highly received, attaining an aggregate 88% across MetaCritic and other outlets. As a fan of the Science Adventure series personally, I look forward to finally playing Steins;Gate in English next year.