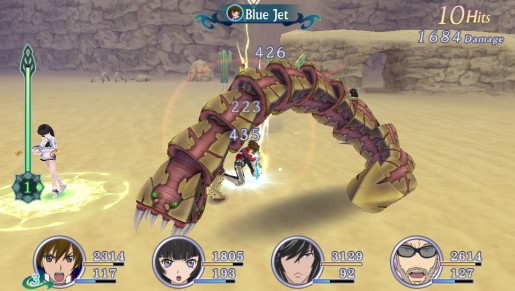 When it comes to the core gameplay, not a lot has changed. If you have played past Tales games before, you will notice that the progression is more of the same. You talk to people, go to towns, fight enemies, watch cutscenes and so on. If there is one thing that I dislike about the gameplay of Tales of Hearts R, that would be the random encounters. Since the recent Tales game have on-screen enemies that you can see and attack to gain the advantage in battle,s you will have annoying random encounters for Tales of Hearts R. It has somewhat of the old-school feel to it but it feels outdated now.
Tales of Hearts R is also missing an English dub. All of the voice overs in the game, including the anime cutscenes have Japanese voice overs. It's surprising that Bandai Namco did it this way but I can understand why as it cuts the cost down to localize the game as they only have to translate the text. As far as translation goes, I can say it's perfect. The majority of the conversations are good enough to put a smile on your face, but expect to read cheesy lines along the way.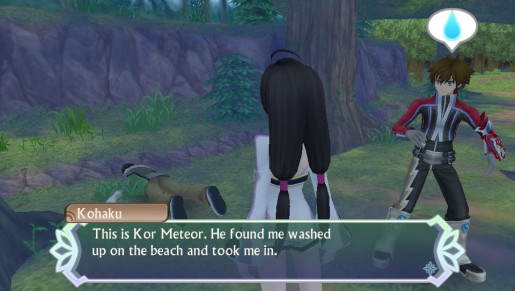 Visually, Tales of Hearts R looks good on the Vita but the world is bland. While the sprites and environments are colorful and sharp on the handheld device, even on the PlayStation TV, the towns, and the over world map look very bland as if there's no life. Sure, there are towns filled with people but you don't get that feeling that it's really like a town. In addition, the dungeon layout is simple and it's not as complicated as the ones seen on consoles. If there's one thing that I like visually in the game, it's the anime cutscenes.
Overall, Tales of Hearts R is a decent JRPG game to play on the PlayStation Vita or PlayStation TV. Since there hasn't been a really good JRPG since Persona 4 Golden came out over a year ago, Tales of Hearts R will good to play right especially if you are a fan of the JRPG genre. It's an awesome JRPG game for the Vita but comparing it to other Tales game, it's the weakest link due to its uninspired story, and not-so likable characters and slow paced story. It's not a bad game at all, but it's definitely not the best Tales game out there.
[Editor's Note: Tales of Hearts R was reviewed on the PS Vita platform. The game was provided to us by the publisher for review purposes.]
Tales of Hearts R Review

,