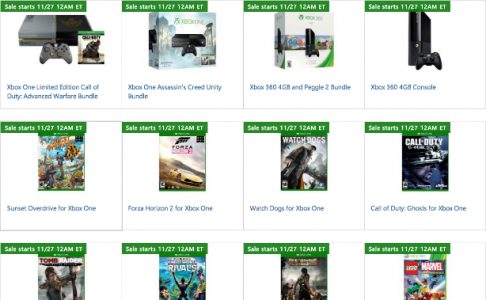 With Black Friday happening in just a few short weeks, Microsoft has now revealed the items that will they have up for sale starting midnight of November 27th.
When midnight strikes on November 27th, you can grab several Xbox bundles and several games. As of right now, Microsoft hasn't revealed the pricing for the bundles and its games but we're assuming it will be on sale since it's featured as their Black Friday deals.
Those who have an Xbox One, expect the following games to be on sale: Sunset Overdrive, Forza Horizon 2, Call of Duty: Ghosts, Watch Dogs, Tomb Raider: Definitive Edition, Wolfenstein: The New Order, Middle-Earth: Shadow of Mordor, and Diablo 3: Ultimate Evil Edition. For Xbox 360, you can grab Watch Dogs, Assassin's Creed 4: Black Flag, Wolfenstein: The New Order, Sniper Elite 3, and Thief.
Excited? Bookmark the official Microsoft page to see more games that will be on sale. As always, expect more things to be added as Black Friday approaches.