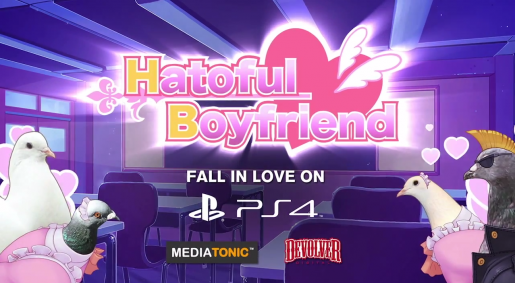 Times were simpler back before the Playstation 4 launch. Resolution wasn't a point of contention, indie games came out frequently but without the marketing seen by the likes of EA or Activision, and the more furry you got in a dating sim was perhaps a pair of ears and a tail. Now, all of that is going to change with the addition of fully anthropomorphic Chordata Aves.
Hatoful Boyfriend is a story-driven visual novel that takes place in an alternate version of Earth many years in the future after a strain of H1N1 (avian bird flu) wipes out nearly all of humanity, leaving birds as the dominant species. Going from publishing a game where your main character is named Lo Wang to releasing a game all about finding love seems like a natural progression in the industry these days. Your playable heroine is a teenage human girl of whatever name you choose looking to woo one (or more) of eight eligible bachelor birds. Think Hakuoki with pigeons instead of the Shinsengumi (Pigeongumi?).
The avian-themed dating sim Hatoful Boyfriend has been on Steam for quite some time now and now the next-gen console will be getting its own playable version in the future. Devolver didn't give a release window beyond Q2 2015 or price yet, but they did grace our windowsill with a new trailer you can check below.