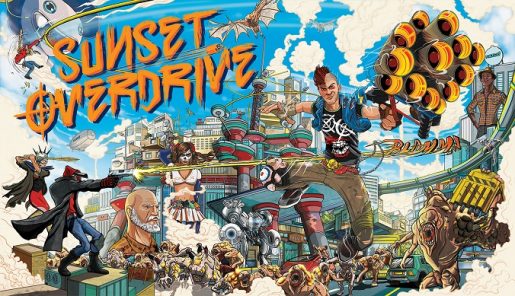 Not long ago, Insomniac Games made a name for themselves with the Ratchet and Clank series, known for its fast paced platforming and shooting as well as its style of humor. Years later, Ted Price and his team have grown up and tried their hands at other styles of games, although most lacked that comedic charm they once had. Sunset Overdrive, an Xbox One exclusive, aims to regain that charm they once had with a new style of third-person action. Is Sunset Overdrive driven to become the next must-have exclusive, or could it be Sunset Over-hyped?
Sunset Overdrive opens in the wake of a small-scale apocalypse (commonly referred to in-game as the Funpocalypse) following a launch party for a big corporation's hip new energy drink, Overcharge Delirium XT. This corporate concoction works as intended with one tiny side effect: it turns the consumer into a raging mutant faster than any zombie apocalypse ever could. From then on, Sunset City is placed under a complete lockdown, leaving you, the player, and a handful of survivors to survive the Funpocalypse and find a way to leave Sunset City.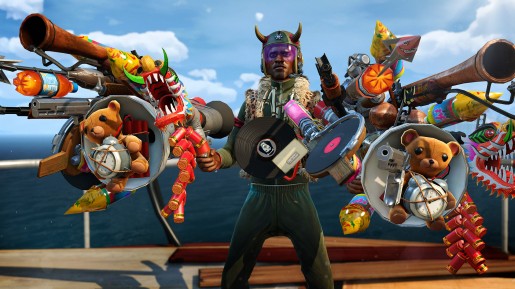 From the onset of Sunset Overdrive, you play as a character of your own choosing, either male or female, and fully customizable from then on. Just about everything minus the voice can be tweaked as you see fit. Why can't your voice be changed? Because every cutscene and bit of snippy dialogue is voiced by the player character. There's no shortage of clothing to don or fresh kicks to sport, as clothing can be a common reward for taking part in certain side quests/missions or for successfully completing a session of Chaos Squad.
The weapons in Sunset Overdrive are all just about as customizable as your heroine or hero. Just as Ratchet and Clank had a diverse armament, Sunset Overdrive goes even crazier with the guns at hand. Want a rack of roman candles that fire off like a gatling gun? How about a plush teddy bear strapped with dynamite that explodes on impact? There's no shortage of weapons and you're given the opportunity to equip eight at a time into battle. Weapons that you use frequently will level up, not only increasing the power and ammo capacity, but also adding the functionality to strap on an Amp.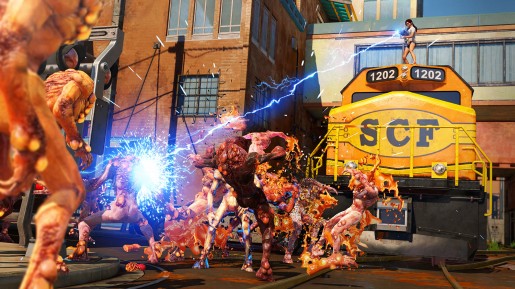 These amps are another tool for customization in Sunset Overdrive. Activated by looking cool and playing stylishly, a combo counter and Style Meter fill up over time as you combat the OD. Once filled to a certain point, it'll activate whatever amps you have equipped. Each weapon (after hitting level two with that given weapon), can equip one Weapon Amp that radically change the weapon's usability. In addition to Weapon Amps, your Sunset citizen can also equip one each for their melee swing and dive bomb, two Hero specific amps, and an Epic Amp that turns on with a maxed Style Meter. Amps are frequently given out as quest rewards or bought from Floyd, one of the numerous merchants around Sunset City and there's more than enough to make your character stand out from any other player.
Another handy group of perks for your character are called Overdrives and these badges are obtained by grinding out certain combat actions such as wall running, using a particular weapon type, or killing a specific type of OD. With enough badges, you can craft up a set of Overdrives unique to your character. Some of these badges grant abilities like extra style with a given action, extra survivability versus a particular enemy type, or various weapon boosts. If you're a player that enjoys rocking the Flaming Compensator, why not throw on some badges that give you a huge increase in ammo and damage?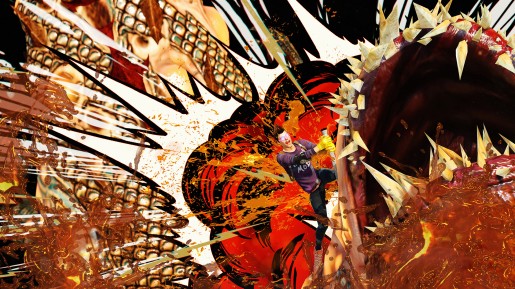 Combat and customization are just a couple of the big aspects behind Sunset Overdrive's style. Traversal is certainly the most important thing to remember about getting around Sunset City. If you're ever spending time running around on foot beyond just trying to grab one of the hundreds of collectibles scattered about, you're doing it wrong. There's a huge repertoire of movement options available at just a single button press. Grinding on rails, running across walls, bouncing off any stationary car or bush, and more. These moves can easily be chained together to create some stylish combos that not only help with getting around, but boost up that Style Meter and make your character all that much more powerful. If you're ever having troubles moving and shooting at the same time, Sunset Overdrive offers a fairly liberal auto-aim system and a weapon zoom on the Left Trigger that slows down time to aim that perfect rocket shot.
Once you've made a character, explored around Sunset City a bit, and killed a few thousand OD what else is there to do? For starters, it's a large open city with numerous fast travel points and collectibles, so tracking down some moldy shoes or blasting the FizzCo security cameras might lead to a few new upgrades. Side quests and missions are frequently popping up across the map along with various skill challenges, all of which tend to lead to some form of upgrade for your character.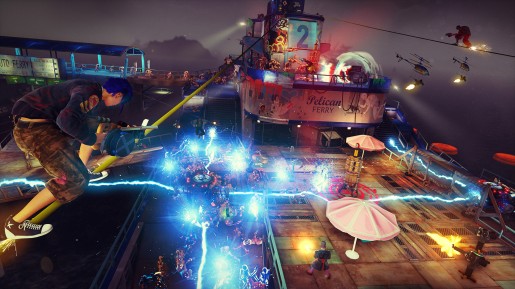 Not one to keep the experience simply a solo affair, Sunset Overdrive also offers a multiplayer mode called Chaos Squad. This puts you together with seven other people who may or may not be your friends in various challenges around the city. Before each challenge, players can vote between two different events that each offer a bonus to the final Night Defense mission. More than just standard shooting and killing, these missions vary from missions like using TNTeddies to blow up an interstate roadblock while FizzCo defense robots fire on your squad, or point-based challenges for grinding and freerunning. After a few of these challenges and the modifiers they confer, it all culminates into a Night Defense mission where you have to protect vats of Overcharge from the seemingly endless waves of OD, similar to the missions you'll have to do solo to progress the story. These horde-style encounters don't provide any down time, as if you're not constantly grinding around and using traps to fend off the OD, they'll easily overwhelm your base and destroy the vats. Diligence, mobility, and an itchy trigger finger are sometimes the only tools that can help you survive the night aside your teammates.
Sunset Overdrive is one of those rare games where I constantly found myself just exploring the city or blasting away at a few OD. The freedom of movement is such a joy to run around that I might not be able to look at other open-world games the same again. Sunset Overdrive is vulgar, it's crass, and I can't stop playing it.
[Editor's Note: Sunset Overdrive was reviewed on the Xbox One platform. Review code was provided to us by the publisher.]
Sunset Overdrive (Xbox One) Review

,