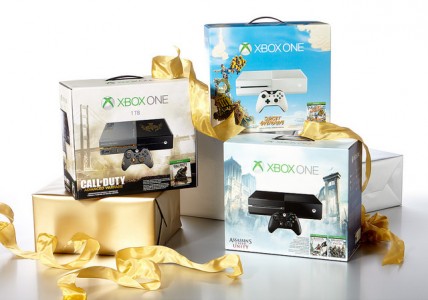 Starting off the holiday shopping season early, Microsoft announced plans to not only release three new hardware SKUs in North America but also slash an extra $50 off the top.
Starting November 2nd, multiple retailers in North America will be reducing the price of certain Xbox One consoles without kinect to $349 and the kinect-included models to $449. These discounts all apply to the following new hardware bundles (no word on the other models available in the wild):
Available on Nov. 2 in the U.S., the Xbox One Assassin's Creed Bundle for $349 ERP and Xbox One Assassin's Creed Bundle with Kinect for $449 ERP features Assassin's Creed: Unity as well as Assassin's Creed IV: Black Flag on Xbox One. The Xbox One Assassin's Creed Bundle with Kinect also includes Dance Central Spotlight.
The Xbox One Special Edition Sunset Overdrive Bundle, available in limited quantities now, features a sleek white console and wireless controller, a digital copy of Sunset Overdrive, and special Day One edition in-game items – available for $349 ERP.
The Xbox One Limited Edition Call of Duty: Advanced Warfare Bundle for $449 ERP available starting Nov. 3, features a 1TB hard drive, custom console, custom controller and Limited Edition exoskeleton, plus a digital copy of the Call of Duty: Advanced Warfare Day Zero Edition.
The Xbox One price drop will run from November 2nd, 2014 through January 3rd, 2015 in the USA. Other regions and locations have not been announced yet, but we will be sure to let you know if they happen.