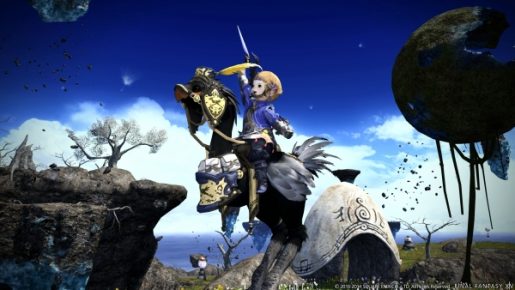 Square Enix revealed this past weekend during the Final Fantasy XIV Fan Festival London more details on the upcoming Heveansward expansion pack.
In addition to the higher level cap, more new areas to explore, and new story, Square Enix stated that there will be new jobs and more.
Below are the key features:
Flying Mounts – Two types of flying mounts were revealed at the Fan Festival, a flying black chocobo and single-rider airships, both making it easier to explore the floating lands that will be featured prominently in the expansion.
Two New Beast Tribes – Heavensward also introduces two new beast tribes, the Vanu Vanu and the Gnath, as well as their primals, Bismarck, and Ravana, respectively.
Dark Knight Job – The first new job to be released in Heavensward was revealed: Dark Knight. This new job will serve as a tank, wields a two-handed greatsword, utilizes darkness-based actions and unlike the existing jobs in the game, will not feature a base class that later evolves into a job.